Kid's Moose Slipper Boots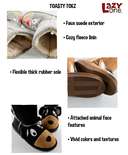 Kid's Moose Slipper Boots
---
Bring your child's imagination to life! Our Moose slipper boots are one of the most popular styles, so your little one will be sure to fall in love! Our Toasty Toez live up to their name with a warm, fuzzy fleece lining on the inside, a stylish faux suede on the outside, and flexible rubber soles. Yup, this is the footwear you've been looking for! Sold Individually per size and design
Kid sizes only.
Kid Shoe Sizes:
XXS (4-5),
XS (6-7),
S (8-9),
M (10-12),
L (13-1)
---
| | |
| --- | --- |
| Brand: | LazyOne |
| SKU: | TZ197 |
Product Shipping Weight
L
0.42 lbs
XXS
0.53 lbs
XS
0.62 lbs
S
0.67 lbs
M
0.79 lbs
User Reviews (11)
Bought these for the family they just love them, very comfortable and cute.
jean
My daughter cried when an antler fell off after wearing these for 4 months straight. Despite missing an antler she still only wants to wear these... gonna be buying another pair a few sizes up for next winter.
Brandon / North Dakota
Thanks for a great product! Worth every penny!
Just writing because I bought a pair of the horse boots for my 1 1/2 year old daughter 2 winters ago in Fort Worth, TX. I bought them at a kitchy tourist store, and thought "these are cute. probably made in China. Probably won't actually wear well or keep her feet warm, but they're cute." So I bought them. 2 winters later, these boots STILL look amazingly NEW and look much better than the pricey UGG boots my friend bought for her kids. And my daughter's feet were warm all winter long - even while not wearing socks with these boots! for TWO years! That's forever in the life of a child's shoes! She's now outgrown her size XS, so I just purchased a new pair of Bear boots size S. Letting all my friends know - these boots are amazing! Thanks for a great product! Worth every penny!
Katie
My daughter absolutely loves these boots and wears them year round. They are so easy for her to slip on and so comfy. We always get a ton of compliments every time she wears them, Even in 80 degree heat with shorts and a tank top.
Melissa
Classic LazyOne print, this one is fun because you can get matching pairs for the whole family! As always these wash up great!
Britt
These were a gift for my daughter, so I never realized how cheap they were! Wow! She has worn these for it seems like years now. She's 5 years old and wearing them to kindergarten, and finally her feet are growing enough for the Smalls to feel tight. So I came online to find her the next size up. No part of them has ever fallen apart. She gets a million compliments (of course), but what I really love about them is they're warm and comfy for her (with or without socks) and she can be really active in them! Buy these!
Darcy / Washington State
These boots are all so cute, warm and sturdy. It's hard to choose just one!
Dianne / Michigan
I've been buying these since boots since before my daughter was even born, and now my son has the dinosaur ones too. They absolutely love them, and we get compliments everywhere we go!
Curlzo / Wisconsin
My niece wears them all the time and loves them!
Yogi / Nebraska
I actually bought these at a store in Maine, The grand kids loved them! they wore them all the time! The moms told me that they got lots of compliments from them too! Since I knew they were a Big HIT, I bought the Unicorn boots for Christmas this past year. 2020 The size is true, so buy the shoe size your child wears Perfect unique gift!!!
Trish / St Louis
I visited Maine and purchased the fox ones last year for my Grandson. I even saw pictures of Him with them on in the summer! He loves them, and, is still wearing them! I am back in Maine, and will buy him a size up for the coming winter. They are a great buy for the money, and warm!! He just loves them!! You would not regret buying them!
Buggsie / New Jersey
Cold with like colors
Non-chlorine bleach
Tumble Dry Low, remove promptly