We know. You're trying to figure out what to give your sweetheart for Valentine's day. Chocolates and flowers are traditional, but that can also make them a little unimaginative. If you are looking for some gifts that show that you love them AND you can think outside the box, then we've got a great recommendations for you!
Sleep Hoodies
We cannot say enough about these wonderful, comfy Sleep Hoodies. Seriously, they are a perfect gift for your sweetheart.
With a luxuriously soft peached finish, a warm kangaroo pouch, and a deep lined hood, they are so comfy it is surprising.
Trophy Wife Pajamas
With a fresh new design, these popular Trophy Wife (and Trophy Husband) pajamas are a lot of fun.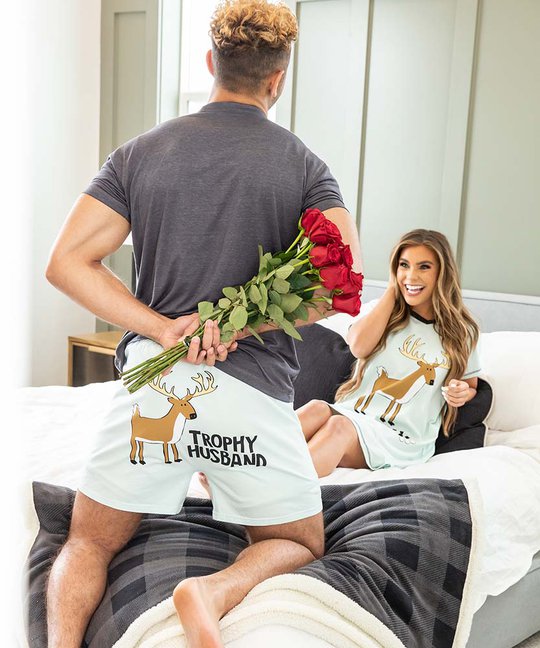 Women have a few different options from a cool and fashionable Tank and Shorts set to a stylish Nightshirt. There are even some socks in case you want to accessorize!
Hogs and Kisses PJs
Who doesn't love lots of Hogs & Kisses?! This design will get you lots of hugs & kisses we're sure.
Made from 100% combed cotton for a soft breathable comfort. This design comes in a v-neck nightshirt option and a regular fit pajama set. Either way, she'll love them!
Bear Hug
The Bear Hug Pajama Collection is one of our favorite designs with ton of options! She'll love the style of the legging set for sure with its soft and stretchy leggings that have a thick waistband and drawstring for adjustable comfort.
The long, coordinating tee is made of lightweight cotton and sports a flattering cut with a rounded bottom hem, V-neck, and three-quarter sleeves. If she'd prefer a nightshirt, we have two! One pink and one grey. Notice the wrap around print? Perfect!
Mama Bear
One of our most popular designs, this option is perfect for mamas and papas to connect in a way that is so much fun.
Many folks get this set for matching Christmas pajamas, but the fact is that the Family Bear Pajamas are perfect Valentine pajamas too!
No Prob Llama
After a long day, or frankly, just about any time, the idea of going to bed is No Prob Llama!
With both a 100% combed cotton nightshirt and a sleek tank and short set, the No Prob Llama Pajamas have you covered!
Moose Couple Pajamas
What a fun couple pajama set with a blue and pink option! Mix and match with whichever loved ones you want to match with.
What a comfy, and fun pajama set! With the adult pajamas, the butt flap actually works! Yup, the Classic Moose Onesies are sure to be a hit!
Plush Socks
She'll feel cozy and cute in our Plush Socks!
These socks have a non-skid sole, a soft, fleecy outside, and a luxurious sherpa interior for ultimate warmth and comfort.  It feels like a comfy hug for her tired feet!
Women's Robes
Nothing says warm and cozy like our Women's Robes.
Warm and super plushy, our bathrobes feature a contrasting faux sheepskin trim, two deep, roomy pockets, and all the luxurious comfort you'd expect from a spa! You will be able to comfy and warm no matter where you are. 
These are ideas for women, but as we all know, it is nice to show your love by matching with them. We've got many his-hers couple pajama sets that make for a great gift. Whatever you decide to do, make sure she knows how special she is to you!