Sleeping Dammit Beaver Nightshirt
Sleeping Dammit Beaver Nightshirt
---
I'm Sleeping Dammit has probably been said one too many times! make it into a joke because everyone needs some humor added to their sleepwear! With a roomy fit for most women, these fun and flirty shirts are made from cozy 100% combed cotton. And with a wide variety to choose from, there's just the right saying for every lady!
• 100% Combed Cotton Knit
• Straight Box Styling
• Contrasting Neckband
• Contrasting Flat Lock Stitch
• Permanent No Fade Print
• Preshrunk
---
| | |
| --- | --- |
| Brand: | LazyOne |
| SKU: | NS364 |
Product Shipping Weight
One Size
0.58 lbs
User Reviews (25)
I LOVE this PJ set and every single lazy one pj set I own (that's a whole lot y'all). The shirts, leggings, shorts and one pieces are all so comfortable. They look fantastic on and I get compliments every time someone catches me in them. I look for all kinds of excuses to wear them too (family movie nights, lazy Saturday mornings, etc). I absolutely love the dedicated customer service behind Lazy One & my family and I love their products!
Best pjs / Cache county, Utah
My daughter loves all the cute stuff from Lazy One. This is one of her favorite style shirts to sleep in/wander the house. Especially when she has her fuzzy bear feet on.
Big dog / Missouri
This particular nightshirt was roomy, washed pretty well and looked good for several months. They are very comfortable. Like that the products are all cotton. Would not buy if they weren't.
Golfing girl / LA/NY
I've been buying from Lazy One for several years. The gowns are awesome! I bought several for my sister and now she buys from Lazy One too. Love your Items and clearance!
Nancy / Tennessee
I've been buying my nightshirts exclusively from Lazy One for about a decade. The first one I found was in a small country store and it featured a horse with the tagline "Hot to Trot". These are the very best quality I've ever seen. Made of soft, combed cotton, they feel great on, keep their shape and last for years with proper washing and care. I purchase several at a time in order to rotate them. I recommend them to everyone!
Terri
My first order from Lazy One and won't be my last. Very good quality and I love the designs. So glad I found you!
Leslie / Tennessee
I just love it. I love all Lazy one night shirts. They are roomy, fun to wear and very comfortable
I love mine! / Tazewell VA
One of my first I bought, but not the last
This is the second one I have bought from them. And it will not be the last. I have never had a night shirt so comfortable to sleep in. And I love the length!
DonnaY / Tazewell VA
These night shirts are so much fun to wear. They are comfortable, and you will never go wrong getting one. They wash up so nice. I let mine drip dry, because I want it to stay looking new as long as it can!
DonnaY / Tazewell VA
I love these night shirts. They're very comfortable and cute
Joyce / Florida
Love these pajama's! I love the humor! Quality material! Reasonable price! Excellent company!
Becca Bear / Texas
My favorite!!!
Kelly / Soda springs Idaho
So comfortable and soft....love your products
THH / TN
These nightshirts are the most comfortable things to sleep in. I bought one on clearance and ended up going back to buy 2 more (plus other items). LOVE this company and everything they sell
Hannah / Michigan
I love these night gowns. The fabric is just right, not too heavy, not too thin. The colors are vibrant and don't fade, I wear mine every night.
Dj / Buffalo ny
I bought 5 of them, I use them all the time.
Aracely
Great nightshirts: soft, wash well& last forever. I've been wearing the nightshirts for over five years. I love how comfortable they are.
Ann
Bought my first two nightshirts through Amazon. I was confident of the quality since I've already purchased several boxers for myself husband. They are still going strong after more than two years and keeps me laughing. These nightshirts are modest and if they shrink they will still be of modest length. I'm 5 feet 2 and the length comes almost mid calf. Hilarious design and messages. Already purchased several for female family and friends. Great gift idea for your girl friends and sisters. Will not disappoint. Thank you Lazy one for your cute pajamas just a good pick me up for after a long day.
Nikky G
I love my pajamas! Exactly what I wanted. This is a great site!
KH
The picture does do this nightshirt justice. My wife loves it, in fact she wore it around the hose and to bed the evening we received our package in the mail. We were also happy with how quickly the items we ordered came. The best part is that they arrived a day earlier than the original order confirmation said they would. Will definitely be telling family and friends about the great products and service.
Rick / Ohio
I Can't Brad Enough About These
I honestly can not brag enough about how comfortable these are. This one is my favorite that I have. They don't stretch out or shrink when you wash them. People laugh when they read them. My husband liked my night shirt so much I got him the guys sleep pants
DonnaY / Tazewell VA
Such good quality. Bought a few items from Amazon and knew then I needed to check the website out. So glad I did! Definitely will be buying more.
Renee
Soft and comfy. Not too hot not too cool. Nice length and super cute!
Georgia / Florida
Can't go wrong with these sleep shirts!
My husband bought me one of your sleep shirts as a gift and nowI have a great start on the whole collection! Best part is these sleep shirts wear well, wash well, and are extremely comfortable! I plan to buy all of them as I never wanna wear any other sleepwear EVER!
Sullichris / Ga
I all started with this beaver nightshirt that was hanging on a clearance rack. The only one there, and I thought it was so funny. That night I wore it and it was so comfortable I wanted more. That led to one more, and soon one more, and another and so on. Now I have a drawer full! Just love the feel. The nightshirts are so cozy. Thank you for a great nights sleep. No I am looking for some that are funny and new.
Mazie / Minnesota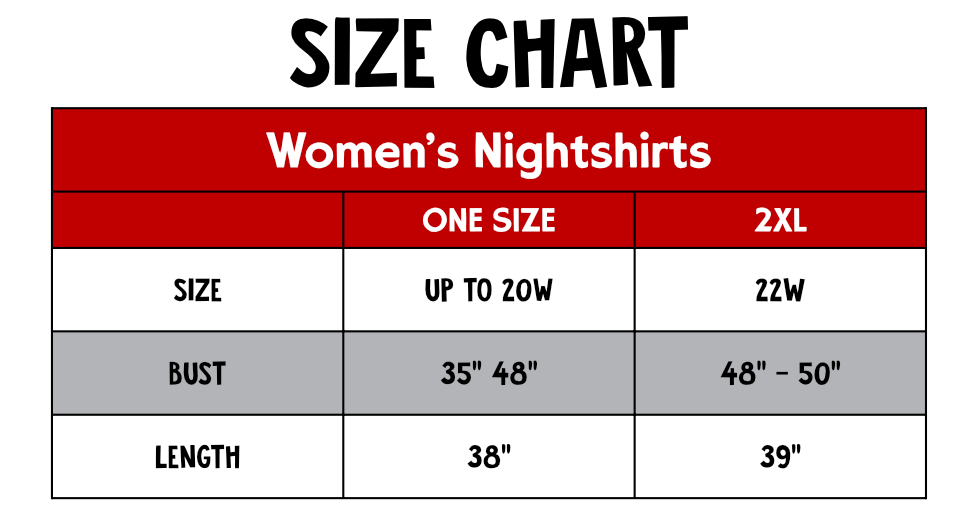 Cold with like colors
Non-chlorine bleach
Tumble Dry Low, remove promptly