Lights Out Kid's Long Sleeve Reindeer PJ's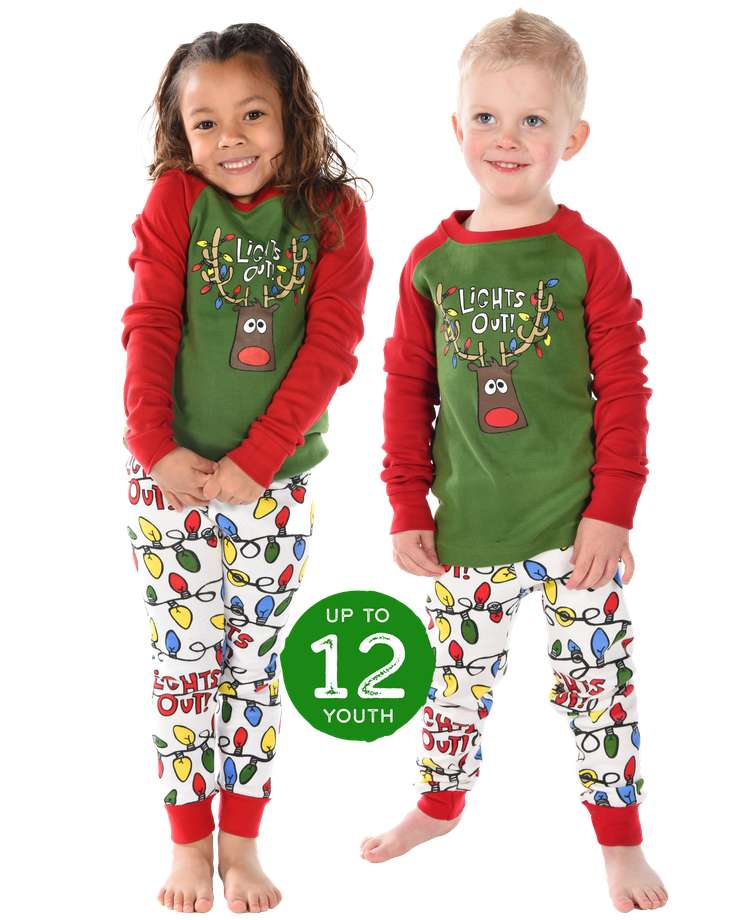 Lights Out Kid's Long Sleeve Reindeer PJ's
---
The Lights Out Christmas pajamas are a very popular design for Family Matching around Christmas time since they have infant, kids, women and men's designs. Make your Christmas cards even more fun this year! Get Christmas pajamas for the whole family with our Lights Out matching family pajamas.
• 100% Combed Cotton
• 2 X 2 rib fabric
• Snug Fitting
• Sold as set – Long Sleeve Shirt with Long Pants
• Contrasting neck, waistband & cuffs
• Permanent No Fade Print
• Preshrunk
---
| | |
| --- | --- |
| Brand: | LazyOne |
| SKU: | KID394 |
Product Shipping Weight
12
0 lbs
2T
0.43 lbs
3T
0.47 lbs
4T
0.49 lbs
6
0.56 lbs
8
0.61 lbs
10
0.69 lbs
User Reviews (26)
Definitely a great buy. Adorable. Comfortable. Cute. Great quality.
Tiffany / Atlanta
These pjs are adorable and fit a little on the big side so you have room to grow! Perfect for the fast growing little ones.
Britt
My kiddos love all Lazy one Pjs!
Great quality. Washes well. Comfy. We have bought several pairs and keep buying when my kids grow.
Nic
These are by far the cutest pajamas i've Ever bought! They are well made and hold up wash after wash. Highly recommend.
Aunt Bre'
These are hands down my son's favorite pajamas. Comfortable, fun without being too childish, and the fit is awesome. He loves them so much he's now requested they be the only kind of pajamas we get him from now on.
Kristen / Idaho
Love these cute, comfy jammies!
My grandson loves these Christmas pjs so much he is already wearing them! He told his mom she should ask grandma to order some for her! 😃 They are well-made, soft and fit perfectly. I bought them for the whole family!
Happy Grandmother! / Tennessee
i've bought several kids pjs from Lazy One and not once have I been disappointed. Great material and graphics
Terri
I ALWAYS buy my kids christmas PJs from Lazy One. I haven't found anything that is has high quality, well fitting and cute as Lazy One. They fit and stretch so well with growing kids. So excited for my little guy to wear these!
Josie / Utah
The material is thick, soft, comfortable and very well made. Easy to wash. I will always come back here for pajamas.
Sarah / Georgia
Lazy One is our favorite brand of pajamas! The fabric is soft and holds up well... and the designs are super cute! Please don't ever stop making them!
Cindy Lu
Lazy One is our favorite brand of pajamas! The fabric is soft and holds up well... and the designs are super cute! We have stopped buying all other brands of pajamas.
Cindy Lu
No words and I mean none! Can even describe how much I love these pajamas! I was always a pajama lover but the day I found this company changed my thoughts on any and every set I ever bought from anywhere else! They are SOFT AND COMFY AND FIT SO PERFECT!
Puuurfect / Pennsylvania
I am thrilled with these jammies for my "wild" 4 year old grandson! Quality is amazing...Buy them for our annual trip to the mountains to keep him cozy!
Pat / Sugar Land
These pajamas a great! They are so soft and wash so well! I adore cute well made pajamas. These have to be my fav so far! Thank you!
Mel / Mississippi
I purchased Lights Out and Fair Isle Moose for my grandson's bday. I love these pj's, the quality, thickness, and very well made. My first experience was when I purchased a pair at a gift shop in Leavenworth, WA. They were the Moose ones, and they did not disappoint. I did not have to ponder my purchase. I fell in love with the design, and now it is the only PJ's I will buy for my grandson. Love them all, but especially the Christmas ones!!!!
Liz / Oregon
Bought my daughter her 1st pair from a store and she loved them so much and I loved the way they were made so much we ordered 4 more pairs! Love them! So soft and comfortable.
Jen / Deer Park, TX
Lazy One is our favorite brand of pajamas! The fabric is soft and holds up well... and the designs are super cute! Love buying fir the grandkids.
Robin / Virginia
Love the design and quality!♥️I Ordered size 3 for my friend"s kid and it fit her perfectly 🥰
Masha / Oregon Eugene
Bought a pair for my grandson to match his sister's and mine and my husband. Absolutely love your pajamas they are very well made and comfortable. Definitely recommend lazy one to everyone!!
Chris / Youngstown Ohio
I have bought countless Lazy One pajamas for my grandkids...and then I found your online store!!! So thrilled! Always a big hit for kiddos to arrive to new moose, bear, woodsy-style jammies. So soft. Customer service is great. Jammies are soft. We couldn't be happier!!
Boo / Steamboat Springs, CO
Been buying these for 5 years! Best made pajamas on the market. Love em!!!
Tracy in Abq / Albuquerque
Super cute PJs to keep them cozy and happy during the winter months. My 9y just loves these pjs and keeps asking for more sets. Amazing quality for the price. They don't shrink and keep brilliant colors after several washes. All stars!
Francy / (NY)
Each year I buy my grandkids new Lazy One pjs. They love how soft they are and the sizing is great. They are easy to order and delivery is quick!
Barb / MN
I am starting a new tradition with my grandkids this year...buying each one Christmas jammies. I bought this cute, festive set for my almost 2 year old grandson. I purchased a size 3T hoping they wouldn't be too small. They fit perfectly and even room to spare! Thank you for the soft fabric that washes up very well and fun prints!
Sony
I buy my 11 grandkids pajamas for our family party every year! This is this year's choice. Last year we did the onesie bear bottoms! Lazy Ones are always their favorite! Can't wait for our first picture with all 11 kids this year!
Kim / Utah
Bought these pairs for our daughter and her 2 best friends for them to wear for Christmas. She probably has 30 pairs of pajamas that have lasted for many washes. She'll pick them out when we go to little towns gifts shops she's gotten pairs from Estes, manitou, pagosa, Yellowstone and every pair has been the same quality. The ladies joggers are also so comfortable she likes to match with me. You can never go wrong with these pajamas!
Chrissy / Colorado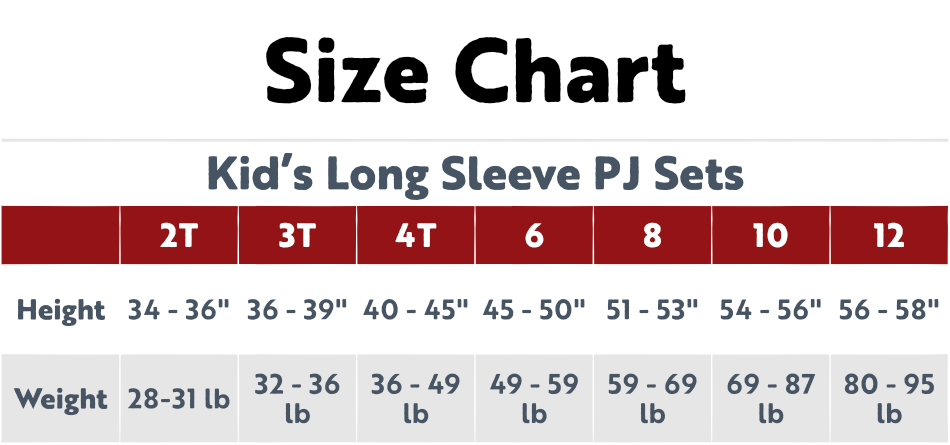 Cold with like colors
Non-chlorine bleach
Tumble Dry Low, remove promptly