I'm a Bear in the Morning Women's Fitted Pj Set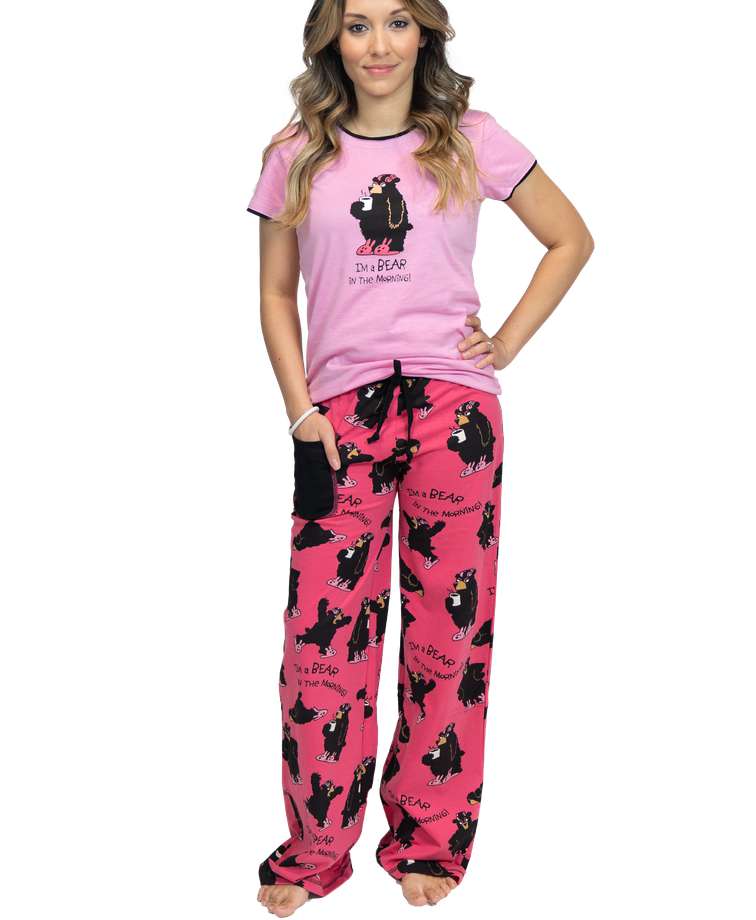 I'm a Bear in the Morning Women's Fitted Pj Set
This product is currently unavailable.
---
If you are a bear in the morning, then these are the pajamas for you! The tee has a trendy tapered cut with a contrasting, raw-edge trim around the neck and sleeves. The roomy pants feature a snug drawstring waist and cute front pocket. Made from 100% combed cotton, these super-soft PJs are lovely to lounge in!

• 100% Combed Cotton Knit
• Contrasting Trim at neck, sleeves & hem
• Fitted Tee Styling – tapered along sides to hug body slightly
• Few styles with ¾ length raglan sleeves
• Cell Pocket on right hip
• Drawstring
• Contrasting Encased Elastic Band
• Fitted through hips and thighs
• Straight wide leg
• Permanent No Fade Print
• Preshrunk
---
| | |
| --- | --- |
| Brand: | LazyOne |
| SKU: | QWS0734 |
Product Shipping Weight
XS
0.79 lbs
S
0.86 lbs
M
0.97 lbs
L
1.03 lbs
XL
1.34 lbs
User Reviews (34)
I got this for Christmas and I love them so much they are my favorite pajamas and I just love wearing them. They are so comfortable and durable!!
Katie
I love these! They are so soft and cozy. The fit is loose and perfect for sleeping or lounging. And the little pocket is a perfect little detail.
Neener / Florida
Bought these a couple years ago and they are still holding up. Great quality.
Towens / Fort Worth, TX
So my son bought me these PJ pants while on his Alaskan trip 5 years ago. I love them so much I had to buy the top to match and became a frequent shopper.
Towens / Fort Worth, TX
So happy I found LazyOne! Only PJ's that have not shrunk, pilled, or lost their shape in the wash. Totally pleased with the fit; an extra small is hard to find in women's pj's that aren't still too big. Love the cute messages, too. Corny, but very cute!
Ellen / Hollister, CA
I have 5 sets of the fitted pj's and absolutely love them! They get softer with every wash and they are a welcome relief from the boring pj's you usually find! Great fit, love that the xs really is extra small. I will keep buying them!
Crimsy / Hollister Ca
I love these jammies! Not only are they soft and comfortable but wash well too! I've bough pj's from the Lazy One store and online and have never been disappointed with anything I've purchased.
Barbara/Georgia
The colors are amazing and the fit and comfort are even more amazing!!! These are the best pajamas I've EVER had and I'm getting MORE!!!
Anie / Florida
I cannot wait to give these as a gift for Christmas - they feel so comfortable and I love the matching accessories I got as well! Super fast shipping too!
Deanna / Hurricane, WV
fit perfectly for a gift
renaker / michigan
Lazy One is our favorite brand of pajamas! The fabric is soft and holds up well... and the designs are super cute! Please don't ever stop making them!
Cindy Lu
Lazy One is our favorite brand of pajamas! The fabric is soft and holds up well... and the designs are super cute! We have stopped buying all other brands of pajamas.
Cindy Lu
Best quality because of 100% cotton. Continue shopping at Lazy One.
Robynn
No words and I mean none! Can even describe how much I love these pajamas! I was always a pajama lover but the day I found this company changed my thoughts on any and every set I ever bought from anywhere else! They are SOFT AND COMFY AND FIT SO PERFECT!
Puuurfect / Pennsylvania
I loved my recent order cutest designs, so comfortable I am an Aussie where is doesn't get cold very often so wearing these to bed on a cold winters night in Colorado is the best!!! I am addicted to buying them 😀
Robyn / Denver
I sure wish you made more pajama pants in XXL . I like them big. Would definitely buy more. I have 2 mens,but most styles or for men- like stud muffin and trophy husband. I own 4 pair and they are my favorite. Good fit and great quality wash after wash.
Labmom / PA
Living and Loving my pj's
Seriously these are so comfortable I wear them out ! And now that I'm quarantined.. I just don't take them off. I'm in love. Thank you so much Lazy One !
Liz / Suffern, NY
Howdy, everyone! This is the best article of clothing I have ever worn. It is comfortable, warm, and stylish. Good for lying about the house, but professional enough to wear to the office. The bear camouflage would also keep you safe during treks to the far ends of the earth.
The Sheltie Kid / Sheltieland
Got these as a gift for someone and they're absolutely perfect. Fit true to size and very soft!
Ella / NY
They're super cute and they fit great!
Melissa / Michigan
I'm so excited during this quarantine to be able to have fun lounging if front of the fireplace in these cute pjs!! I want to buy more!! Thanks for keeping me lazy and cute!
Kelbel / Boulder
My grandma buys a pair of these pants for me at Christmas every year. I love them SO much I bought more for myself and now I can't stop. The fabric is so soft and they keep you at just the right temperature. LOVE love this brand
Hannah / Michigan
These pajamas a great! They are so soft and wash so well! I adore cute well made pajamas. These have to be my fav so far! Thank you!
Mel / Mississippi
I love the fit of this shirt. I can't wait until it is cooler to wear. Great price
Heather O. / CA
Perfect! Can't own enough
I highly recommend this pj set. I love everything about LazyOne pants and shirts. They are super comfortable, the sizing is spot on, the care is super easy and the clothes are long-lasting. I can't say enough good things about LazyOne.
Pony
All the best things that I want in a pajama. Love them!
Jane / Indiana
I love my pajamas! Exactly what I wanted. This is a great site!
KH
I just love all the fun and creative sayings. These pajamas are comfy and last for years!
Lauren / Idaho
Have a couple of pairs . Just bought a couple more. Soft and very comfortable
Patti
Love these pajamas !! They are so soft and comfortable. They have been washed lots of time and haven't shrunk and the colors haven't faded. I liked my first pair of Lazy Ones so much I bought two more pairs.
Chip / Arkansas
Been buying these for 5 years! Best made pajamas on the market. Love em!!!
Tracy in Abq / Albuquerque
I absolutely love your pjs they wash well and keep there color. Every pair I have represents everything I love. Thanks LazyOne's for all your amazing pjs and your awesome designs.
Amazing / Kim/Canton, NC
This is the 4th pair of pajama pants I have purchased and they are absolutely adorable. I love love love them! So cute!
Lisa G / Lowell IN
These are seriously the best pajamas ever. Super comfy and they last! Have had a pair for several years!
Lori / Michigan
Cold with like colors
Non-chlorine bleach
Tumble Dry Low, remove promptly