Happy Hanukkah Kid Onesie Menorah Flapjack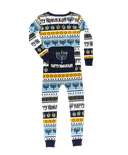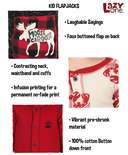 Happy Hanukkah Kid Onesie Menorah Flapjack
---
Our Hanukkah Kid Onesie Flapjacks are perfect gift for any of the 8 nights of Hanukkah. These comfy pajamas provide a classic style that appeals to any family. Cradling the body in snug comfort, Flapjacks provide stretchable movement, cozy warmth.
• 100% Combed Cotton
• 2 X 2 rib fabric
• Unisex sizing
• Contrasting flat lock stitch
• Faux Buttoned flap on back
• Contrasting Cuffs
• Button Down Front
• Permanent No Fade Print
• Preshrunk
---
| | |
| --- | --- |
| Brand: | LazyOne |
| SKU: | KFJ853 |
Product Shipping Weight
2T
0.38 lbs
3T
0.41 lbs
4T
0.45 lbs
6
0.56 lbs
8
0.64 lbs
10
0.69 lbs
12
0.73 lbs
User Reviews (11)
purchased the matching Bear check pjs for my grand son and grand daughter almost 3 years ago and they are still in great shape wish they still fit the baby.. but got good news i have another grand child on the way so i will definitely get to use these adorable pjs again
ryleenana / Rancho Cucamonga
We got these matching pjs for Christmas pictures. My son laughed when he seen them, but now he wears them all the time! They are comfortable and very well made. Definitely look at the size chart and measure your child. Our son is very tall for his age so we sized up for that reason. It is a little big, but that's okay so he can get another year out of them.
Dee / Rainsville, Alabama
My kids received these pajamas as their Christmas pajamas from the grandparents! We love them!! They hold up well and get worn a lot!
Sam / Utah
The flapjacks are super! I have several for my kids and we use them all year. The kids love them. Super for comfort when driving and keeping kids warm even when they kick off the blanket. We love it in our family in Denmark.
Camilla / Denmark
Lazy One is our favorite brand of pajamas! The fabric is soft and holds up well... and the designs are super cute! We have stopped buying all other brands of pajamas.
Cindy Lu
We have them for the entire family. Well made, warm, worn year round, and the kids love them. Continue to purchase larger sizes as the kids grow. Parents love them too. Highly recommend.
SAB
Lazy One is our favorite brand of pajamas! The fabric is soft and holds up well... and the designs are super cute! Love buying fir the grandkids.
Robin / Virginia
Been buying these for 5 years! Best made pajamas on the market. Love em!!!
Tracy in Abq / Albuquerque
Super cute PJs to keep them cozy and happy during the winter months. My 9y just loves these pjs and keeps asking for more sets. Amazing quality for the price. They don't shrink and keep brilliant colors after several washes. All stars!
Francy / (NY)
I bought one for the whole family, can't wait to get pictures of us all. Really well made PJs!
KC / VA
These were a huge hit with my friends! I sent them 2 of these and the matching baby outfit, and they love them so much! They posted a family snap on Instagram and have received numerous inquiries on where they scored the perfect Hanukkah pjs.
Lauren
Cold with like colors
Non-chlorine bleach
Tumble Dry Low, remove promptly