Classic Moose Adult Blue Onesie Flapjack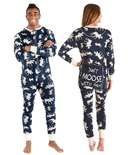 Classic Moose Adult Blue Onesie Flapjack
---
Looking for full-body comfort? The blue Classic Moose Adult Onesie Flapjacks fit like a glove with the snugness you'll love! A modern take on the classic long john, they have a functional flap! And with the the pink moose design, these make for a fun Family matching set! With their snug and stretchy fit, Flapjacks are the tradition of the past, the fashion of the future, and the oh-so-comfy pleasure of the present.

- 100% Combed Cotton
- 2 X 2 Rib Fabric
- Unisex Sizing
- Contrasting Flat Lock Stitch
- Buttoned Flap On Back That Opens
- Contrasting Cuffs
- Button Down Front
- Permanent No Fade Print
- Preshrunk
---
| | |
| --- | --- |
| Brand: | LazyOne |
| SKU: | FJ256 |
Product Shipping Weight
XS
1.01 lbs
S
1.09 lbs
M
1.14 lbs
L
1.38 lbs
XL
1.44 lbs
XXL
1.52 lbs
User Reviews (23)
When I opened my box and saw what they said I about fell over! These are wonderfully made, extremely comfortable, and keep me nice and warm!
Stevie / Texas
I love the Lazy One Flap Jacks
I usual sleep in night gowns, but I bought this for myself for Christmas. I decided to wear it when the temperature dropped to the 30's and I was glad I had them on. The little "trap door" is interesting to use but it's large enough and works well! I didn't want to take these long John's off. I'll be giving these for gifts next Christmas!
Deb / Tx
Surprised my sister in-law and brother in-law with matching pajama sets. All four of us ended up matching for the holidays. So comfortable and durable that the guys played football Christmas Day with them on and after a quick wash they looked brand new! They are breathable and warm. Recommend this product. I will say my brother in-law is 260 all muscle and super tall... He still fit in the XXL even if the max weight was 250. The flap in the back is also convenient if you know what I mean, ladies! Purchased two Mediums, one XL and one XXL. TRUE TO SIZE.
MapleB / Hill AFB, Utah
My husband and I bought a pair for pictures and they are amazing! We size up for my husband because he was worried about it being too tight in an area and I measured myself and went by the size chart. The fits were fantastic! My husband says they are the most comfortable pair of pjs he has. They are very comfortable, very cute, and great for fun Christmas pictures!
Dee / Rainsville, Alabama
We got these matching pjs for Christmas pictures. My son laughed when he seen them, but now he wears them all the time! They are comfortable and very well made. Definitely look at the size chart and measure your child. Our son is very tall for his age so we sized up for that reason. It is a little big, but that's okay so he can get another year out of them.
Dee / Rainsville, Alabama
I love this Onesie!! The flap is legit (in case you're wondering!)! These PJS are so comfortable and look cute too. I love wearing them around the house on family movie night! They're comfortable enough for sleeping too!
The best one piece ever
I LOVE this PJ set and every single lazy one pj set I own (that's a whole lot y'all). The shirts, leggings, shorts and one pieces are all so comfortable. They look fantastic on and I get compliments every time someone catches me in them. I look for all kinds of excuses to wear them too (family movie nights, lazy Saturday mornings, etc). I absolutely love the dedicated customer service behind Lazy One & my family and I love their products!
Best pjs / Cache county, Utah
We ordered these for our first Christmas with our baby and puppy. The shipping was extremely fast, and the quality of the pajamas is great! The flap on the bottom opens up as well. I'm 6 foot 1 inch and ordered a Large size because usually everything is way too short on me. I probably could have gotten a Medium, because these pajamas have some amazing length to them! The arm and leg lengths are super long! We will be purchasing our yearly holiday pajamas from this company from now on!
Kertney / Valparaiso, Indiana
I ordered 2 of the one-piece pajamas with the 'flaps'. Both of them were better than I expected. Colors were bright and quality was high!
Debbie / New Hampshire
I ordered matching pjs for my family and they were true to size. Great material and fit just right. It was well worth my money and wil be ordering from this lovely website again.
Natti / walla walla washington
Lazy One is our favorite brand of pajamas! The fabric is soft and holds up well... and the designs are super cute! Please don't ever stop making them!
Cindy Lu
Lazy One is our favorite brand of pajamas! The fabric is soft and holds up well... and the designs are super cute! We have stopped buying all other brands of pajamas.
Cindy Lu
No words and I mean none! Can even describe how much I love these pajamas! I was always a pajama lover but the day I found this company changed my thoughts on any and every set I ever bought from anywhere else! They are SOFT AND COMFY AND FIT SO PERFECT!
Puuurfect / Pennsylvania
They are so cute! The quality is really nice, and you won't want to take them off! I have been looking everywhere for matching pj's for me, my boyfriend & two dogs! This company seemed like the best one to go with, and I am SO glad I took the chance and bought them! We want to order more! Great pricing for quality, cute, comfy pj's! Thank you!
Raquel
Howdy, everyone! This is the best article of clothing I have ever worn. It is comfortable, warm, and stylish. Good for lying about the house, but professional enough to wear to the office. The bear camouflage would also keep you safe during treks to the far ends of the earth.
The Sheltie Kid / Sheltieland
I can bearly contain my excitement!
I love my new onesie! It is the cutest and comfiest onesie I own! I purchased a few more for my family, friends, and myself.
Anna Hazlett
We have them for the entire family. Well made, warm, worn year round, and the kids love them. Continue to purchase larger sizes as the kids grow. Parents love them too. Highly recommend.
SAB
Lazy One is our favorite brand of pajamas! The fabric is soft and holds up well... and the designs are super cute! Love buying fir the grandkids.
Robin / Virginia
Been buying these for 5 years! Best made pajamas on the market. Love em!!!
Tracy in Abq / Albuquerque
I bought a pair of matching ones for my son and I. They are so cute and will be perfect when we snuggle up for movie night!
Michelle / Toledo
I looked and looked and LOOKED for some drop seat pajamas and the only ones I could find (that were somewhat cute) where made and shipped from China. Typically that means they would run small and be cheaply made. Then I found LazyOne, sooo happy that I did. My pjs are not only the CUTEST pajamas but the material is made of thick comfy cotton. I worried they wouldn't be as warm as fleece but I was WRONG. Honestly they kept me warmer then any of my fleece onesies ever have. My new FAVORITE 'go to' PJ's. I definitely plan to buy more. Thank you LazyOne! Huge fan!!
Colleen-shop / Prosper Texas
I love these jammies so much. I've had them for years! I wish I would've gotten a size up since the legs and arms are a bit shorter than the size chart makes them out to be, but I adore these jammies. The butt flap is 150% the best part.
Katie / Wisconsin
I LOVE this onesie, it's SO cute and comfy. Everyone ask where i got this onesie and i get tons of complements. Couldn't be more impressed with this onesie and i will definitely purchase additional products.
Nikki_boagreis
Cold with like colors
Non-chlorine bleach
Tumble Dry Low, remove promptly