Beware of Natural Gas Men's Funny Boxer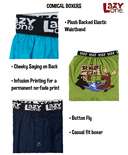 Beware of Natural Gas Men's Funny Boxer
---
Behind every good man is a man's good behind and some natural gas, so cover that keister with "cheeky" comedy! Our popular Beware of Natural Gas boxer is made from soft 100% combed cotton knit, our boxers have a roomy fit with a button fly and an exposed elastic band. It's easy to see why the butt stops here!
• 100% Combed Cotton Knit
• Exposed Elastic Waistband
• Button fly
• Backside is one panel of fabric - no seams to interfere with graphics
• Permanent No Fade Print
• Preshrunk
---
Product Shipping Weight
S
0.23 lbs
M
0.25 lbs
L
0.29 lbs
XL
0.32 lbs
XXL
0.36 lbs
XXXL
0.50 lbs
User Reviews (23)
They are amazing. And comfy. And omg I love them.
DuckBoxerLover
Love these Funny Boxer Shorts!
I have 5 of these funny boxer shorts so far, and they are great! What a cute idea. I wear them around the house and out in the yard with t-shirts, they are so comfortable and lightweight for the summer time. I love them!
SleepyHead / Sutter Creek, CA
These are the best, I love the colors and the fit. I've been buying all these pajamas and boxers for years.
Aunt Bre'
These crack me up!
Deb Doo / Indiana
fit perfectly for a gift
renaker / michigan
We are a big fan of your underwear
My husband Loves your boxers. I had to buy him more because that is all he wants to wear, especially to sleep in. He says they are the most comfortable underwear he has ever owned.
Roseryan / Colorado
Love these pajama's! I love the humor! Quality material! Reasonable price! Excellent company!
Becca Bear / Texas
Everyone loves these products.
I have bought several items for gifts mostly boys & mens boxers. My guys in the family love them plus they are true to size with noooo complaits. I love them because I am entertained for the day; they sayings are hilariously funny, Cute pictures that go with the saying, plus looking at all the available items for sale. The product & website I highly recommend. Enjoy!
Deb Doo / Indiana
Not only are these boxers fun, but very Comfy also.
Debbi / California
No words can describe how comfy, these boxers are. 10 thumbs up.
Al
This us my hubby's go to sleepwear. We joke about it. I get to pick new boxers and surprise him. Always great quality.
Wifey / Florida
We had purchased a pair of the funny boxers in Missouri. When I found this online for Lazyones, I was thrilled. He loves them and that makes me happy
Mccoby
I just love all the fun and creative sayings. These pajamas are comfy and last for years!
Lauren / Idaho
Love the boxers!!! Very comfortable!!!
Joe
Been buying these for 5 years! Best made pajamas on the market. Love em!!!
Tracy in Abq / Albuquerque
I bought these for my youngest son (30 years old) and he loved the ones from last year. He is a big man so they are not only comfortable but a good price. I was buying these from my hometown of Greenville Maine and then found you on the web. So its great to see your products at a better price.. Thank you.. Mooselady
Mooselady
Very well made and could not be more true!
Winnie
Love these boxers! I got them for my boyfriend haha
Peyton
These were our first purchase ever from LazyOne. My partner loved them when we first discovered the company on vacation in WA. The boxers fit well and are so comfy. Since then we have made several purchases from the company online both men and women items. Love these boxers and all our items!!
Lacy / Hawaii
Great quality and they hold up!
Just figured out I could get these online for my husband bought 3 in a store, then found you online and ordered 13!!!! He loves the boxers finds them comfy and likes they have the button front. They are very good quality. The others he had in the past have held up from long time wear and washing.
Ljones / Knoxville`
My husband loves how comfortable these underwear are as well as how funny they are. We saw these while in a gift shop in Branson, Mo and just had to buy them.
Mary / Texas
Gave it to my husband as a gift and he loved them!
Angel / Oklahoma
Fam absolutely LOVES these boxers!
Thanks Lazy One! These are a favorite in our family. A family Christmas tradition; boxers for all the boys/men. So Fun!
Sharon / Utah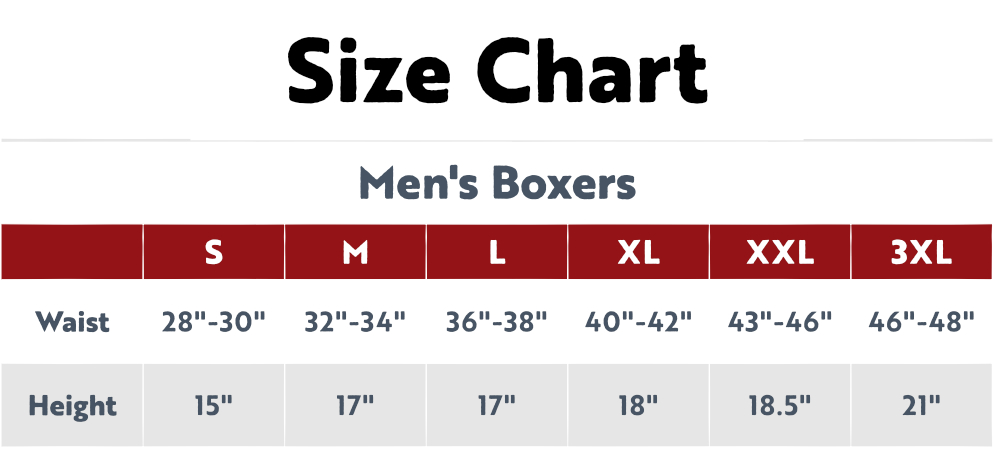 Cold with like colors
Non-chlorine bleach
Tumble Dry Low, remove promptly