Bear Cheeks Infant Plaid Onesie Flapjack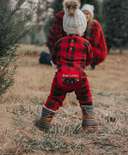 Bear Cheeks Infant Plaid Onesie Flapjack
---
Bear Cheeks Infant Onesie Flapjacks are part of our best selling Family Matching set. These Comfy pajamas provide a classic style that appeals to the most stylish family. Cradling the body in snug comfort, Flapjacks provide stretchable movement, cozy warmth, and handy snaps between the legs for easy diaper access. The Bear Cheek flap is decorative.
• 100% Combed Cotton
• 2 X 2 rib fabric
• Contrasting flat lock stitch
• Faux Buttoned flap on back
• Contrasting Cuffs
• Button Down Front
• Permanent No Fade Print
• Preshrunk
---
| | |
| --- | --- |
| Brand: | LazyOne |
| SKU: | IFJ126 |
Product Shipping Weight
12 MO
0.38 lbs
6 MO
0.38 lbs
18 MO
0.44 lbs
User Reviews (9)
my now one year old and two year old live in these. They are adorable and I love that they don't fade. we took out Christmas pictures in these at the cabin.
keeping active kids / Idaho
my daughter learned to talk in these, so cute!! I love the buttons on the bottom, makes it convenient. again such a cute pajama, made it extra cute to see my new little one learn to walk.
keeping active babes / Idaho
I bought these pj's for our family Christmas photos. They are very well made, held up well in the wash & so cute on! My only complaint is they seemed to run a little snug.
Q7651 / Atlanta
We got these matching pjs for Christmas pictures. My son laughed when he seen them, but now he wears them all the time! They are comfortable and very well made. Definitely look at the size chart and measure your child. Our son is very tall for his age so we sized up for that reason. It is a little big, but that's okay so he can get another year out of them.
Dee / Rainsville, Alabama
Bought these as a gift for my future grandson ❤️
Grammy
Love these pajama's! I love the humor! Quality material! Reasonable price! Excellent company!
Becca Bear / Texas
We have them for the entire family. Well made, warm, worn year round, and the kids love them. Continue to purchase larger sizes as the kids grow. Parents love them too. Highly recommend.
SAB
Review of Bear cheeks ann Duck Duck Moose
I love them both - purchased them for a baby gift. I've worked in Yellowstone National park and love love love LazyOne clothes. Thank you
Jaxine
My nephew Mason will Lord willing be born in November, and I purchased these bear cheek pjs for his baby shower! I actually have an adult size for myself, and I thought it would be adorable for him to wear too! The ladies at the shower nominated these cute pjs as the best gift of the day, and I have to say they are going to be so cute when there's a little guy waddling around in them! The package arrived only a couple day's after I ordered the pjs, and I was pleased that the price wasn't on any of the tags, so that I could give her a gift as brand new as possible. Thank you so much!!!
Emily / Lake Stevens, WA
Cold with like colors
Non-chlorine bleach
Tumble Dry Low, remove promptly