It's time for bed! After a regular day, you're probably going to toss on an old, oversized shirt and hit the hay. The day is over, you're not going anywhere, so what's the big deal? The big deal is getting to wear cute, funny, comfy, cozy pajamas to bed! The big deal, or the biggest reason why you need PJs you love to wear, is that pajamas will help you sleep.
Some of us might not bother thinking about or caring about having specific clothing for sleeping. You might even be the sort of person who wonders why they should bother purchasing clothes specifically for sleeping. But the reasons why pajamas will help you sleep and why they're an incredibly worthy investment may surprise you!
Putting on Pajamas Sends a Signal to Your Body and Mind
You might have noticed how much we love talking about a bedtime routine. Routines for babies, kids, and even us adults are a critical part of getting better sleep. One aspect of that routine should be changing into clothing designated solely for rest, AKA: pajamas!
Changing into your favorite jammies can help tell your body and mind it's time to begin winding down toward sleep mode. The concept is the same as when experts advise you to change into your work clothes to get you into the mindset of work; changing into PJs will help your mind and body ease toward sleep.
Cotton PJs Set the Stage for Comfort
Pajamas made from cotton can provide the best comfort thanks to high-quality material. Combed cotton PJs are super-soft, very lightweight, and have fewer uncomfortable additions and detailing than our typical day wear.
Cotton is most commonly chosen because it is an organic fiber that is naturally soft, comforting, and holds hypoallergenic properties, meaning the fabric is gentle for even the most sensitive skin. The breathability of cotton pajamas also keeps your body temperature well regulated, which is beneficial for those who tend to sleep hot no matter the season.
Pajamas Help with Temperature Control
Extreme temps are not helpful when trying to sleep. If you're too hot in summer or too cold in winter, you'll find it difficult to relax and drift off to sleep. When the cold temps finally arrive, wearing your pajamas can help warm your body up and keep them warm all through the night.
The best warm winter PJs will be full-length with sleeves. A comfortable, not too tight, or too loose fit will help keep your body heat close to your skin and keep you warm all night.
If you feel you often sleep hot or suffer from night sweats, you may want to check out our recommendations on which are the best pajamas for hot sleepers.
Healthy, Clean Sleep Starts with PJs
You can keep your mattress and yourself cleaner at night and prevent the spread of bacteria just by wearing a pair of pajamas! Did you know that even while we sleep, our skin is constantly shedding and renewing itself? Without PJs, that shed skin, natural oils, and sweat end up on more of your bedding. It is important to regularly wash your PJs and bed sheets to keep everything comfy and clean, which leads to better sleep hygiene.
Comfort Fit Pajamas Give Freedom of Movement
If you hate how tight, restrictive clothing fits you during the day or love loose clothing in general, then you'll no doubt love slipping into a pair of comfort-fit pajamas. Loose-fit jammies let you move about in and out of bed with ease.
Comfortable PJs mean no tight shoulders every time you turn, causing you to wake up and readjust them or fight with tight bottoms that have twisted awkwardly during sleep. When you can move your limbs and sleep in your favorite positions easier, you'll sleep better.
Treating Yourself to a Great Pair of PJs is an Act of Self Care
Investing in a pair of high-quality, long-lasting, super soft pajamas means investing in your comfort and better quality sleep. That is an act of caring for yourself! Quality, restorative sleep is a vital tool for our mental and physical health, so by choosing the ideal PJs that suit your body and personality, you are also doing something that takes care of you.
Worth the Space in Your Drawer or Suitcase
Since most sleepwear sets are made from a thin, lightweight material, so they take up less space than a pair of jeans or a sweater. PJs are easier to fold up, store, or carry around in luggage with us wherever we may go. So be sure to pack your favorite Lazy One pajamas on your next adventure!
Pajamas with Personality and Style
For many of us, picking out a PJ set lets us delve deeper into choosing clothing that better reflects our personality. If you love cats, you probably already have the purr-fect pair of cat-themed PJs.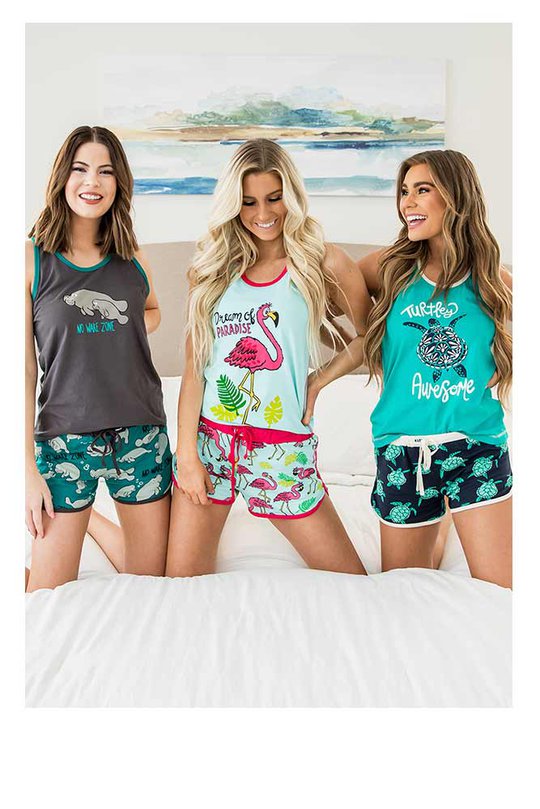 If you're fun and quirky, you can choose an adult onesie to wear around the house. If you're working from home, you can wear comical PJs without worrying about what your boss may think of you. If you love jokes, punny or sassy one-liners, or simply appreciate pajamas inspired by the great outdoors, you can express your style in Lazy One pajamas.
Most pajamas can also double as lounge around clothes too. Feel free to take a lazy day at home to decompress—binge watch your favorite shows or read your favorite books in your jammies. There are many fantastic reasons why pajamas will help you sleep, and we're passionate about all of them! We hope you find a reason to give PJs a chance and sleep better tonight with our exceptional pajamas.