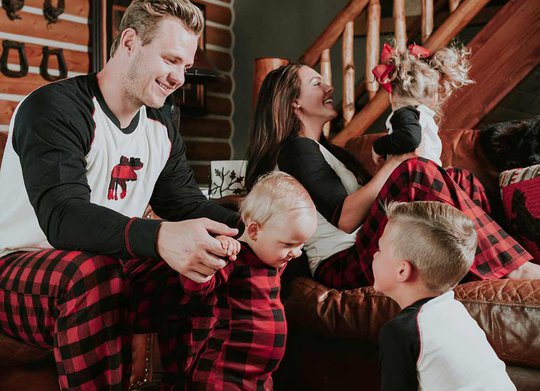 There are a lot of different types of pajamas out there with quite a few features that set them apart from others. Add all the other different terms used and it can get confusing Here is a helpful glossary to help you figure out what the different types of pajamas are.
Combed Cotton
Combed cotton is a version of cotton that has been processed prior to spinning it into yarn. The process of combing the cotton aligns the cotton fibers making combed cotton yarn much softer and tougher than regular cotton yarn.
Flapjacks - Classic Long Johns - Butt Flap Pajamas
We have to start this list with our most popular pajama style. The classic long john has been around for over a hundred years and became very popular back in the day when people had to use outhouses or chamber pots in the winter and wanted to stay warm while meeting this most basic of human needs. They are a type of adult onesie with a flap on the butt that opens so that you can use the restroom without removing the entire garment.
This pajama has made a comeback with the growing popularity of Christmas Matching Family pajamas. The butt flap can be fastened with buttons, snaps, or Velcro, depending on the design. With LazyOne Flapjacks, we use 100% combed cotton and buttons to maintain the classic look of the original designs.
Flannel
Flannel is a woven fabric that is brushed to create additional softness. It was originally made from wool, but you can now find flannels made with cotton, and synthetic fibers too.
Fleece
Fleece is a soft warm fabric with a texture similar to sheep's wool which is where it gets its name.
It can be made from many raw materials from wool to a type of polyester which is the most common material to make fleece today.
Footed Pajamas - Footies - Footsies
This is another type of onesie that have attached feet. This type of pajama covers the entire body except the head and hands in most cases, unless you choose a hooded option. They are made for men, women, children, and infants so everyone can experience this comfortable sleepwear.
In the case of LazyOne's Hoodeez, we make them out of a soft polar fleece with front pockets and a cozy hood.
Jiffy Grip - Non-Skid Fabric - Traction Dots
Have you wondered what that material is on the bottom of footie pajamas and slippers? Jiffy grip is the non-slip cotton fabric with rubber dots on the soles of pajamas. It is a durable material that is exceptional at preventing slipping so it is the logical choice for footed sleepwear.
Non-skid rubber dots can be infused into other fabrics like microfiber and fleece for pajamas made with other materials. In the case of our Hoodeez, we infuse the sole of the foot with a rubber LazyOne logo so the non-slip rubber can come in more shapes than just dots.
Nightshirts - Nightgowns
In England in the the 1800s, sleepwear for both women and men were long gowns or nightshirts. Nightshirts and nightgowns have been a mainstay of sleepwear every since.
Though the styles have changed and diversified, you'll still see these everywhere. At LazyOne, we make ours with 100% combed cotton and we even have a few flannel ones. They are so comfy.
One-Piece Pajamas
This one is pretty simple, but we will break it down for you just in case: a one-piece pajama is a pajama where the top and the bottom of the pajamas are made with one piece of fabric. Hoodeez, Flapjacks, and other onesies are considered one-piece pajamas and the advantages of this style is that they are super stylish 😉and help prevent drafts in your midsection keeping you extra warm and cozy!
Onesie - Infant Creeper - Rompers
Are we being super redundant here? We've already listed Flapjacks, Hoodeez, footies, and one-piece pajamas, so why list onesies as a separate entry into this glossary? The term was originally coined by Gerber to name their line of infant creepers, but the public has started to apply that term to infant, kid and adult one-piece pajamas.
Technically, when referring to infant creepers, Gerber considers the term onesie as a trademark so that is why we refer to them as infant creepers. In the case of the creepers, they are usually a short sleeve, one-piece pajama that has snaps around the diaper area and leaves the legs bare. Rompers are similar to infant creepers except that they have legs that go down to the knees.
Sweats - Joggers
People just want to be comfortable. So they started wearing sweatpants, or "joggers" to bed. Since then, companies have been producing extra comfy joggers for the sole purpose of a good night sleep.
Tanks and Shorts
This pajama style is popular among women and features a soft fitted tank top with shorts that match outerwear.
Now they are often made with more comfortable fabrics like cotton.
Two-Piece pajamas, Classic Pajamas, tailored pant sets
In the early 1900s a style of tailored pajamas started to gain popularity.
In the iconic scene in It Happened One Night, Claudette Colbert wears Clark Gable's tailored men's pajamas and this style of pajama set exploded in popularity.
Union Suit
This is a one piece pajama originated in New York in the 19th century for women as an alternative underwear from the constricting garments that were available at the time. It soon became popular with men later kids. LazyOne's union suits are similar to our flapjacks with a couple of small differences. First, many of them use a zipper front instead of buttons and second, they don't have the decorative flap like the flapjacks.