As a parent, we probably don't overthink on why we need blankets for our children. They have their beds or cribs, and we always provide them with blankets. When it comes to sleep, we all know how vital it is for our children to have a great night's rest. It helps their body repair itself and handles the unique, rapid growth of their bodies and minds.
But did you know that specific blankets can help with another unique aspect crucial to our little one's growth? This particular activity is crucial to our children's development as proper nutrition, affection, and sleep?
Play!
That's right! Imagination and play are another vital part of your child's development! But what do blankets have to do with it? Let's dive in!
Imagination Station
Childhood is the era of eternal magic and shapeshifting! Where bedding can become intricate castles filled with dragons and knights, or a box can become a dread pirate ship navigating a wild ocean made of pillows or grass, and a clipped towel transforms into a superhero's cape. Teddybears can become dinosaurs, blankets can become princess gowns, and every day turns into the fantastical with ease.
What looks like wholesome, wildly creative fun for most adults is significant and vital for children's development. When our kids use their vast imaginations during active play, their brains develop essential psychological and emotional capacities that help them process and understand the world in which they live and their relation to it. Imagination and play are the actual building blocks to lessons that teach them how to problem-solve, create new possibilities, and change the world someday.

According to many child psychologists, the importance of imagination in all areas of child development can't be overstated. Imaginative play allows our children to tap into their most creative sides without any boundaries in a way that is much more freeing than what we may do as adults.
When our children engage their imagination, they create visual images in their mind's eye that allow them to explore other imagery and ideas without being constrained by the physical world's limits. Children get to explore both the physical world with their imagination and their inner selves, which helps them engage in modes of speech, attaching words to emotional experiences, process how they feel, and develop an empathetic understanding of the world around them.
Several studies have shown that imagination and play can:
• Foster important social qualities like cooperation.
• Encourage empathy
• Foster appreciation for others and their feelings.
• Express more emotional engagement, thoughtfulness, and understanding.

All that and the fact that play is just simply fun for them and fun for us to watch as parents! So you can clearly see how it is so vital for our kids to embrace their imagination and play.
What do Imagination and Play Have to Do with Blankets?
Blankets create so many castles, fortresses, and magical far-away places! But what if you could offer your kids a blanket that could transform them into magical, wild creatures in almost an instant?
Kid's hooded blankets are pure imagination come to life! Hooded blankets spark imagination and easy play! Let your little one slip into their favorite one and watch their world come alive in fun, new ways!
Let them become a:
• Mighty dinosaur.
• A King of the Jungle lion

• A mighty black bear
• A glorious horse running free
• A magical rainbow unicorn
• A pouncing tiger
• A howling wolf
• A strong and wild buffalo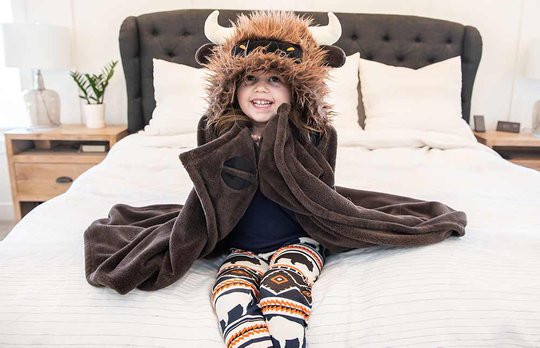 • An adorable moose
• The cutest monster ever
• A beautiful pink owl
• A free penguin roaming the frozen seas
• A magical pink horse

With hooded blankets, your child can be anything because there's no limit to their imagination! Animal and magical creature hooded blankets are as cozy as they are creative and a perfect way for your kids to bundle up while soaring through magical imagined lands.
Whether it is time to unwind during a winter evening after bathtime with a book or a favorite family movie, or almost time to take a nap, or even just daytime playtime, kids will adore wrapping up head to toe. These adorable blankets are super soft, cuddly warm, and delightful in every way and allow your kids to embody whatever their dreams take them. Simply place the hood on your little unicorn or dinosaur's head, help them or let them nestle their hands into the cozy corners featuring fun applique designs like paws, claws, or pads, and watch their imaginations soar.

At LazyOne, we not only know how important it is to provide comfort, warmth, and love for our family, but how important it is to foster joy, laughter, and humor in our lives—from all ages!
Our children must connect with their imaginations, the world around them and experience the laughter and happiness of play. Our hooded blankets and tail blankets feature fun designs that foster exactly those things. Additionally, we ensure our kids' tail blankets and hooded blankets are eye-catching vibrant, and immensely super-soft, using only today's premium 100% cloud-cozy polyester fleece. Your child will love to touch these blankets, and as a parent, you will love how easy they are to clean so that your little will lion can wear their blanket again and again.
If it sounds like we know exactly what we are doing when it comes to comfort, it's because we do! Our primary mission is to create the ultimate in high-quality, long-lasting sleepwear essentials for all ages. Each hooded blanket and tail blanket is designed to provide hours of fun and play while withstanding the unique wear and tear kids can put their favorite blankets through. With roomie sizes of 40" 50" too, our blankets will grow alongside your little penguins and horses too.

At Lazy One, for us, it's more than just a product. It's all about bringing back imagination, fun, and play to families worldwide by making unforgettably joyful, laughter-filled moments to last a lifetime. We're so happy to be able to make the world a more creative, imaginative space with our delightful range of hooded blankets for kids!