When it's time for family photos around the Christmas tree or another special occasion, let your pet join in for a complete portrait of your pawsome tribe! There are tons of ways in which you can incorporate your dog or cat into family pajama photos this year. For every PJ set with matching dog pajamas we offer, here are some fun and out of the box photoshoot ideas to inspire your next family portraits. They're rated five paws!
Bear Cheeks Onesie Collection
These onesies are beary popular, and for good reason – they look awesome in pictures! This collection features a unique Onesie Flapjack for your four-legged family member. If you have a wooden backyard, have dad hold one of the kids on his shoulders with everyone facing away towards the trees. This will create an un-bear-lievable scenic family portrait that the grandparents will go wild for! If you don't have a backyard like this, you can easily head to a park for a very similar feel. Click here to see the collection of Bear Cheeks Family Matching Pajamas.
---
Bear Essentials Onesie Collection
This collection says "campfire" all over it! Get creative and assemble a faux campfire for the kids to sit around. Give them sticks with marshmallows on the end to really drive home that feel! Dress the family doggie in the Bear Essentials Onesie Flapjack and give them a big bone to hold as if they're holding it over the campfire like the kids! Click here to see the collection of Bear Essentials Family Matching Pajamas.
---
Family Bear Collection
This is a great one for mama and papa bear to get in on! Using black or grey sheets, create a cave using the furniture in your living room. When it looks like the perfect den, have your cubs sit in front of it with mom and dad on the sides. Dress the dog in the bandana one Onesie Flapjack and have one of the kids hold them. You can have a photo for smiles, one for silly faces, and even one for growling scary faces! Click here to see the collection of Family Bear Matching Pajamas.
---
Beary Cool Collection
This is a fun and trendy collection with stylish colors, and a wonderfully creative hand drawn bear with sunglasses. This collection is great for Christmas Pictures, and thanks to the timeless design, they can be worn year round! Talk about a beary timeless photo op! Click here to see the collection of Beary Cool Family Matching Pajamas.
---
Sweet Cheeks Onesie Collection
This collection is sugar sweet, perfect for a kitchen family photo. Bring your crew into the kitchen with the kids sitting on the countertop. This is where you can get as creative as you'd like! Have them holding different baking utensils like a whisk, cookie cutters, or a rolling pin. You could also set up a scene in the middle of making gingerbread cookies so everyone is included in the photo! If someone isn't holding the family pup, make it an even sweeter pic by making it appear like they're licking cookie dough from the spoon! Click here to see the collection of Sweet Cheeks Family Matching Pajamas.
---
Lights Out Collection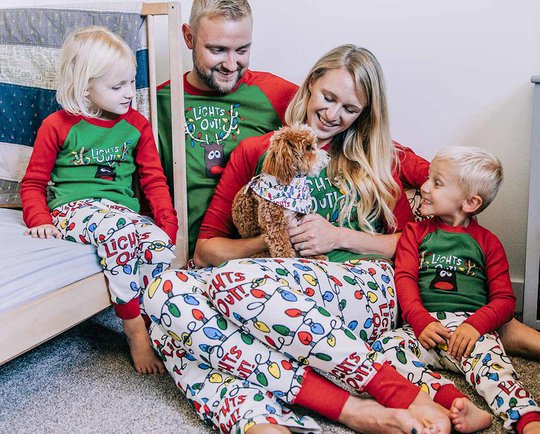 Lights out because Santa is on his way! Sit as a group among the presents on Christmas Eve so you can capture the excitement your little ones are feeling. Dress pup up in the Lights Out Dog Christmas bandana or onesie and have them sit pretty with the kids. This is another collection where Fido would look perfect with a pair of antlers. Make it even more festive with the Lights Out crew socks with everyone showing the print on the bottom of the foot! Click here to see the collection of Lights Out Family Matching Pajamas.
---
Moose Caboose Collection
This collection is super popular with a flap sporting a moose silhouette that says Moose Caboose! Dress the family doggie in the Buffalo Check Onesie Flapjack or reversible bandana and get some great family matching pictures for Christmas or whenever you want to dress in matching pjs! Click here to see the whole collection of Moose Caboose Family Matching Pajamas.
---
No Peeking Onesie Collection
Take a few of the kids' presents outside and sit them against a tree. With the gang dressed in their pajama best, have the kids pose with the presents, shaking them or pretending to tear the paper. If you'd rather an indoor photo op, create the scene by seating everyone with their presents by the Christmas tree. Have the kids cover their eyes and Fido's too! The real sweetness of the photo will be having the kids open their fingers just a bit so they're ever so slightly peeking. Click here to see the whole collection of No Peeking Family Matching Pajamas.
---
Don't Wake the Bear Collection
Ready for the best family photo you guys have taken so far? With the Don't Wake the Bear PJs, everyone can jump in mom and dad's bed for this photo op! Have the kids prop their feet up on your headboard to show off their oh-so-scary Paw Slippers. Get Fido to lay on their back in the middle of the kids so its legs are visible in the photo. Mom and dad will be on either side of the kids, showing off their Black Bear Paw Mitts. It'll look like a real bear den in there with all those beary scary claws being shown! Click here to see the whole collection of Don't Wake the Bear Family Matching Pajamas.
---
Nordic Moose Collection
These PJs feature that classic Christmas red that looks amazing in Christmas card photos. We're not moosing around when we say you'll love these PJs! Have everyone line up on your stairs, indoors or out, from tallest to shortest. At the front of the line, have the family dog sit with the ever-so-stylish Nordic Dog Bandana on. Have the kids wear our Moose Critter Caps for that extra layer of cuteness! Make it even more fun with our Fuzzy Feet Slippers or Plush Socks. Hands down, this collection is a moose-have for your annual, family jammie pictures. Click here to see the whole collection of Nordic Moose Family Matching Pajamas.
---
Nordic Bear Collection
In an eye-catching grey, red, and white colorway, our Nordic Bear pajamas are fantastic for indoor or outdoor photoshoots. If you have an outdoor fire pit, you can seat your bear cubs around it with the family pooch in our snazzy Nordic Dog Bandana. For indoors, have the kids sit in front of the fireplace with the White Polar Bear Paw Slipper on. Have the pup sit between the kids or on someone's lap. Mom and dad can totally get in on the pawsome fun of these pictures, too! Click here to see the whole collection of Nordic Bear Family Matching Pajamas.
---
Lab Collection
Whether you own a Labrador or not, your dog can easily be included in your annual family photos with this collection! This is for dog-loving families that really want to show off just how pawsome their pooch is. Have the crew sit together on your bed with all the curtains open for that great natural lighting effect. Call Fido up onto the bed with the Lab Bandana on and have them lay down. Make sure everyone has their Lab Crew Socks on too! A simple, but super sweet photo that you'll treasure for years to come! Click here to see the whole collection of Lab Family Matching Pajamas.
---
Moose Plaid Collection
There are tons of possibilities with our Moose Plaid collection. For a totally amoosing photoshoot idea, have your pack get dressed in these PJs for breakfast. That means Fido, too! Use the Red Plaid Oven Mitt, Pot Holder, and Moose Plaid Red Ceramic Mugs in your photo. Now, with a picture-perfect breakfast on the table and everyone's mugs filled with their favorite holiday beverage, you can capture that super special moment! Have the pup seated next to dad in the photo (unless they're small enough to be held!). We guarantee you'll treasure this breakfast portrait forever. Click here to see the whole collection of Moose Plaid Family Matching Pajamas.
---
Evergreen Plaid Collection
With trees that resemble watercolor, and a buffalo plaid flap, our Evergreen Plaid Family Matching Pajamas is perfect for Christmas or whenever you want to match as a family. The Buffalo plaid design has so many matching accessories from hats, to socks and more. Plus our dog flapjack lets you match your beloved furry family members with your whole family. Click here to see the whole collection of Evergreen Plaid Family Matching Pajamas.
---
Fa La La Llama Collection
Deck the halls with boughs of holly, fa la la la la la la la llama! Make it a Christmas to remember with this PJ set for this year's family photo. With cute llamas featured on the pajamas, you can easily capture a super sweet photo with our Grey Plaid Sherpa Throw Blanket. Spread the blanket out on the couch or the floor and have the kids sit cross-legged on it. Whip up a few cups of hot cocoa and have them cheese with their piping hot mugs in hand. Give Fido a little whipped cream in a cup so it seems like he's enjoying his own holiday treat, too! Click here to see the whole collection of Llama Family Matching Pajamas.
---
Lost in My Dreams Collection
These PJs are perfect if you're headed to a cabin for the holidays or live against a mountain range. If you're staying somewhere like The Great Wolf Lodge, Snowshoe Mountain, or Vail Mountain Lodge, there are tons of areas indoors and out to get that outdoorsy look for your family pictures. You can easily get a dreamy photo in your own backyard with Fido included. Pick a point of interest, like your back porch, fire pit, or some great pine trees. Have everyone group up with the family pup seated at mom or dad's feet or in front of the kids. Click here to see the whole collection of Lost In My Dreams Family Matching Pajamas.
---
Special Delivery Pajamas
It is time to get cozy in style this Christmas with comfy jammies sure to bring some ho ho ho to your holiday! With our Special Delivery pajamas, find your holly jolly side with comfy coziness to spare. These are sure to light up your night as you cuddle next to the fireplace, have a Christmas movie night, or just admire the bright lights of the tree. Whatever your holiday to-do list entails, these jammies are here to make the holidays cozy and bright!
---
Happy Camper Pajamas
Our matching family pajama Happy Camper collection has all of the perfect PJs and accessories for a great family camp out. You can choose between a variety of men's pajama sets and men's pajama shorts sets, tee shirts and boxers. We also have wonderfully lightweight, breathable, yet warm women's nightshirts and socks for Mom. Last but not least we have long sleeved kid's and infant sets with matching socks, slippers, blankets, and more. Let us help make this summer's camping trip the best one yet! 
---
Tailgate Pajamas
Get your tail in gear this holiday season with comfy jammies for the whole family! No one wants to wear boring PJs and now you don't have to with our cute, cozy Tailgate matching pajamas for the entire family. Perfect for spreading Christmas cheer in a classic style sure to please, these Tailgate matching Christmas pajamas will make your holidays cozier than ever.
Bear Cub Family Pajamas
This cute and cuddly Mommy and Me Matching collection is perfect for any mama bear. It features cozy flannel nightshirts and matching kids short sleeved pajama sets, and even have a cute shirt for the family doggo. Bear Cub Matching Family Pajamas are a great fit for young families!
Cabin Moose Matching Family Pajamas
Inspired by the iconic Fair Isle pattern, our Cabin Moose collection embodies that warm, cozy feeling of holidays spent in toasty cabins. No matter where you and your moose calves live, you can make any morning or afternoon feel like a winter getaway! Get the kids dressed in our Cabin Moose pajamas so they can moose around the house in comfort and style.
Family Elf Pajamas
If you're looking for fun, unique, and memorable holiday pictures for your family this Christmas season, you don't need to look further than our collection of matching Family Elf Pajamas! Have any questions about the ordering process or the products available to you? No problem! Give us a call or send us a message through our Contact Us page, and we'll be more than happy to help. Nothing gives us as much "elf"-satisfaction as providing you and yours with warm, cozy jammies!
Candy Cane Pajamas
This holiday season, buy yourself some Candy Cane Family Pajamas that are just as fun to look at as they are to sleep in. With lots of sweet options for men, women, kids, infants, and even dogs, we're cane-fident that you'll find everything you need and more, whether you want to take some cute holiday pictures or snuggle up together on the couch watching Christmas movies!
Deer Family Pajamas
"Oh Deer!" Bring some fun to your family Christmas photos this year with our Deer Christmas pajamas. This family set features a fun Christmassy deer design with our stylish black plaid design for each member of the family. 
Here is a link to all of our Doggy and Me Pajamas!