Making your home cozy can be very easy. Cozy pajamas, slippers, hot drinks, pillows, and toasty socks are all things that will have your home feeling calm and relaxing. What about blankets? We can't forget those! If you're like us, your house is full of all kinds of different types of sizes of blankets. Some might be perfectly sized for the kiddos, while others are just for you. You might even have a few blankets reserved for the family's furry friends!
With so many blankets, you might not have quite enough storage space in the closets to store them while not in use. If you're cramming blankets everywhere you can, here are a few unique blanket storage ideas that will help tidy up the way you store them.

Ottomans or Benches with Storage
Perfect for bedrooms, the living room, or the playroom, ottomans and benches offer a little more seating for the kids or guests. If you can find these with storage space, they're even more functional. Store blankets in these for easy access and clean up. They're also great to help teach the kids to put away their blankies while cleaning up their rooms.

You may have a wooden bench that does not open, but rather has space below the top. If this is open space, you can neatly roll blankets and stack them. If the space is designed for baskets, choose a few sizable wicker or other baskets to store your blankets in.

Blanket Storage Bags
These types of bags are perfect for under the bed storage. In a zippered design, these bags can fit relatively large blankets and keep them protected from dust, mildew, and other damage.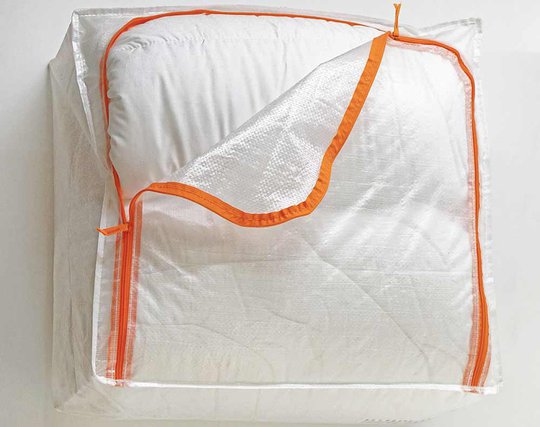 Slide these underneath beds, store in the linen closet, or in the top of the kids' closets. Be sure to choose a blanket storage bag with handles so you can easily carry it from room to room.

Storage Bins
Have a few blankets that you absolutely adore, but they're a little too toasty for warm weather snuggling?
Maybe you have a couple Christmas blankets that you'd like to store with the rest of the Christmas décor. Grab a few storage bins to store these blankets in and place them in the garage. If you don't have a garage, these can also be stored in closets or attics.

Display Cabinets
For those blankets that just so perfectly fit the aesthetic of your living room or other rooms in your house, a display cabinet is a great option that allows you to use the colors and style of your blankets as part of the décor.
With your decorative bins, books, and objects, reserve a cube space in the cabinet for one or two blankets. They'll feel like a part of the room, adding to the ambience you're going for!

Blanket Ladders
If you don't like the idea of a display cabinet, how about a blanket ladder? You've probably seen these all over home décor inspo pages on Instagram or in magazines.
You can usually find these in many different styles, from rustic farmhouse to sleek and modern. Pick a couple blankets that complement the room's décor and neatly hang them on a rung of the ladder. The great thing about these is that when you re-decorate for the holidays, the blankets can be switched out to match for Christmas or Hanukkah color schemes.

Hampers
In the corners of the room, you can use stylish fabric hampers to house your plushiest blankets.
These are so easy! Just roll your blanket and place it into the hamper. You can allow the blanket to add to the look of the room or choose a different type of hamper with a lid.

Towel Racks
This is a very creative blanket storage tip that can really spice up the look of a room. In a guest room, den, or "bonus" room, install a towel rack that matches the space's aesthetic. Then, roll the blankets you'd like to store and place them on the rack. You can tie them with burlap string or ribbons for a more decorative look, especially if these are blankets that aren't frequently used.

With a little creative thinking, storing blankets can be quite easy. These tips will surely give you inspiration to store all those blankets around the house in neater, more organized ways. When you choose one or more of these to add to your home, you'll love the difference they'll make in how many blankets you're able to store. Plus, no more crammed closets!