Halloween is "creeping" right up, so it's time to consider costumes for the whole family! With some basic props and a few Lazy One products, it's easy to pull together fun (and simple!) costumes. Best of all, once Halloween is through, your Lazy One items can be enjoyed all year 'round! If you're on the prowl for a good costume this October, here are several "spook-tacular" ideas. We've collected a few fun ideas and compiled them all in our Halloween Pajama Collection. Below, you'll find the ideas explained:
1- Forest Ranger: What a fun costume! Help your little ones get an appreciation of nature with our forest ranger pajamas. Add binoculars, a hat and some boots, and you've got a costume that you can use any time you want!
2- The Lumberjack: This costume is as easy as falling off a log! With LazyOne's Lumberjack Infant Creeper Onesie, a Red Plaid Bomber Cap, some jeans and a toy ax, your little one quickly transforms into an adorable little lumberjack.
3- Werewolf Pup: Happy "howl" oween! Create a warm Werewolf Pup costume with a Wolf Critter Cap, Paw Slippers, Paw Mitts and some Flapjacks and jeans dressed up with tufts of hair!
4- Wolf: Not to be confused with the werewolf, the wolf costume doesn't have any human clothes. We suggest just dressing up in black or some other neutral colors, though the face paint is still a nice touch!
5- Unicorn: What a beautiful Unicorn Princess! With our unicorn hat, pjs and Toesty Toez boots, your little one will revel in magical joy.
6- Cowboy: Howdy partner! This fun baby costume is so easy! In colder weather you can add jeans too.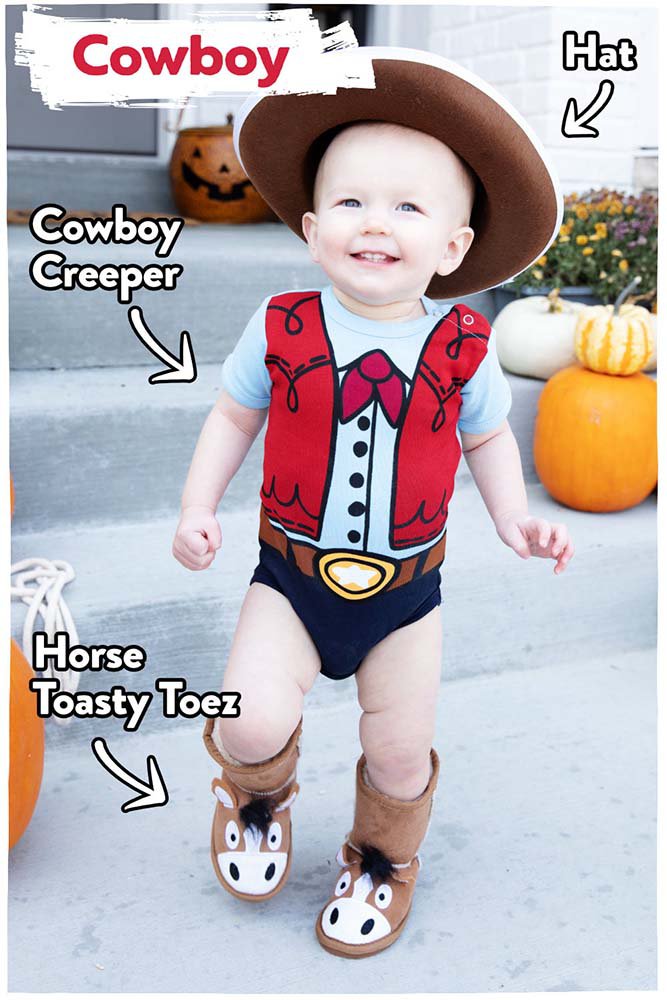 7- Farmer: If your kiddo loves tractors, horses, cows or chickens, they'll love our farmer costume. Plus, lets face it, a little farmer is darling!
8- Crazy Cat Lady: Grab your favorite comfy nightshirt, some Fuzzy Feet slippers, a warm cardigan, and some classic "grandma" accessories, and you've got a costume that's the cat's meow!
9- Dinosaur: No bones about it, dinosaur costumes always make history! Create an easy Dino costume with a bit of face paint, a Dino Critter Cap, a green dino tail, Dino Paw Slippers, and Dino Paw Mitts and let the world hear you roar!
10- Baby Black & Pink Bear: Nothing's better than a bear hug, especially from your favorite trick-or-treater. Make a simple bear costume from a Bear Critter Cap, a Baby Bear Infant Onesie Flapjack, and some Bear Paw Slippers and Mitts!
11- Kid Black & Pink Bear: We've got a fun pink option for the baby bear too! This simple costume is so much fun for the little cute bear cub in your life.
12- Scarecrow: With some straw, Bear Cheek Flapjacks, a pair of overalls, a straw hat, and some Toasty Toez, you can have a real field day with this delightful scarecrow costume!
13- 80s Fitness Guru: Rock out with this totally tubular costume! All you need are some infant leggings, an infant creeper, a little boombox, and some strands of gnarly beads, and you're ready for one rad Halloween.
14- Fisherman: If your kiddo loves fishing as much as you do, then this a super easy way to make a quick costume with our fishing baby bib! Plus you can use it the rest of the year.
15: Yeti: Before getting Yeti for Bed, you can have your little one get out there and get some trick or treating done! With Yeti pajamas, and some really fun slippers, paw mitts, and a hat, this costume will help your kids use their imaginations!
Costumes don't need to be complicated or expensive to be memorable and fun. With just a few key items and a little imagination, you'll be all tricked out for a fun Halloween this year!