The outside world still feels uncertain these days, but Valentine's is coming, and nothing can stop it! There are plenty of ways to have a romantic evening in! We've come up with a list of ten ideas that you and your Valentine can do together, all from the comfort of your very own house while wearing your pajamas.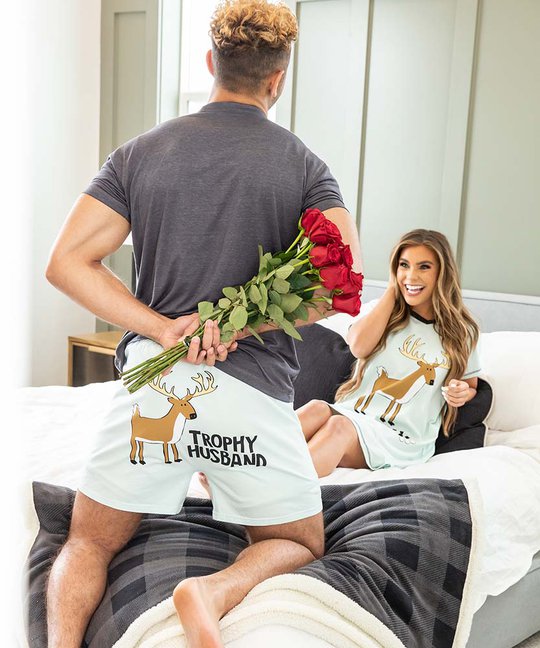 After all, Valentine's Day is all about spending time with the person (or people) you love the most. What better way is there to show someone you love them than by giving them a set of matching couple pajamas that you can snuggle in together?
Here are some fun ideas that you can wear your pajamas for if you're planning a fun and romantic date at home this Valentine's Day:
1- Enjoy breakfast in bed.
Either surprise your significant other or treat yourself to eating breakfast in bed! It's easy to start the most romantic day of the year off right with some heart-shaped pancakes.
If you're good in the kitchen and want to be adventurous, why not try raspberry cheesecake french toast? The possibilities of dishes you can make are as limitless as your own imagination, so go nuts!
2- Cook your favorite dinner together.
On Valentine's Day, breakfast is all about the sweet stuff, but dinner is all about the creamy, savory stuff.
Consider cooking your favorite meal together–maybe the meal you had on your very first date? You can also surprise your partner with THEIR favorite dish if you're looking for brownie points. Speaking of brownies…
3- Make your favorite desserts.
Who needs flowers when there's chocolate cake? Bake a simple, flourless cake (it's better than it sounds) or make some brownies with chopped strawberries inside.
Even in brownie form, you can never go wrong with chocolate-covered strawberries; it's a Valentine's Day classic! If you'd rather make a red cake, red velvet cake with cream cheese icing is always a crowd favorite.
4- Chow down on Valentine's Day chocolate.
Besides spending time with our loved ones, this is what Valentine's Day is really about: the chocolate. Whether you're spending this year single or with someone else, you deserve ALL the chocolate!
Start stocking up now so that you have plenty to enjoy on Valentine's Day, or wait and buy Valentine's Day candy at a lower price when Valentine's Day is over.
5- Create an at-home spa experience.
There's a lot of room for creativity with this one: take a bath and do a face mask at the same time; give yourself (or have your honey give you) a massage using your favorite oils or lotions;
soak your feet in bath salts and light lots of candles. It's all about what feels best to YOU! If you've got all day, you can try a little bit of everything to REALLY treat yourself!
6- Include the kids and make some crafts or cook a fun meal.
Is it kind of impossible to spend one-on-one time with your significant other, especially when there's a global pandemic and babysitters are scarce?
Include the kids in your activities and help them make cute, heart-warming crafts and Valentine's Day cards. You can cut out handprints or have them design the cards if you want things to be extra personalized! Or you can make fun Valentine themed food!
7- Have a photoshoot.
We've all seen the matching-pajama family Christmas pictures, but why not switch it up and do a Valentine's Day shoot instead?
Thanks to smartphone technology, you can take great, high-quality pictures of yourselves and each other from the comfort of your living room. Grab your family some matching Valentine's Day pictures and let the flashes fly!
8- Throw an impromptu dance party in your living room.
Another great activity to do in your living room is dancing–more specifically, a family/couple impromptu dance party! Put on all your favorite hits, and dance like no one is watching.
You'll get a great workout and make a fun memory for you, your spouse, and your kids in the process. (If you need help getting started with a playlist, we recommend the "Cupid Shuffle" by Cupid and "I Wanna Dance With Somebody (Who Loves Me)" by Whitney Houston.
9- Have a game night.
If you're feeling a little competitive, host a fun family game night with everyone's favorite games!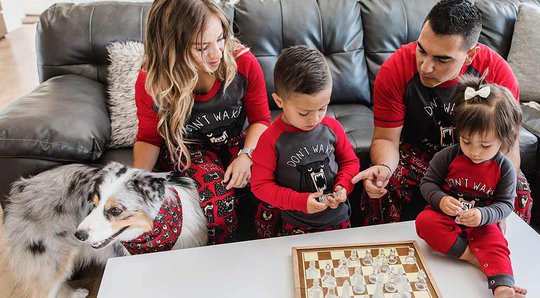 There are lots of options for card and board games alike for players of all ages, so make sure your game closet is full and start rolling those dice. You may learn something new about the people you're playing with!
10- Cuddle and watch a movie.
What would Valentine's Day be without a cute, romantic Rom-Com? Curl up with your dog or your sweetheart and go to your favorite streaming service to see all the belly-laugh and tear-inducing movies available to you. Make sure you have tissues nearby!
Now that we know all the fun things we can do at home this Valentine's Day, we're more excited than ever. We can't wait to see all of the adventures you create in your home this February while wearing a pair of Valentine matching pajamas!