In case you're interested, we currently have a Christmas in July sale going on right now!! Check it out!
It is one of the most celebrated yet unofficial summer holidays. It is always at the peak of summer when the heat is, for most of us, at its most unbearable, and many of us are ready for a reprieve. And while most of us tend to do the largest splurging for this holiday during its official date, there are great opportunities to prep in the middle of summer before the official holiday.
Wondering what unofficial holiday this is all about? We're taking a look at the fascinating history of Christmas in July!
Where Did it Start?
The first hint of Christmas in July can be accredited to an 1892 French opera called Werther, featuring a libretto Édouard Blau, Paul Milliet, and Georges Hartmann. In 1894 an English translation was published by Elizabeth Beal Ginty. In the story, a group of children is rehearsing a Christmas song in July, to which one of the opera's characters responds: "When you sing Christmas in July, you rush the season."
This unofficial but almost cultural staple in the United States began as a lively, potentially cheesy, midsummer celebration within the South. The origins of this strange but heartfelt early Christmas celebration trace back to 1933, over 88 years ago, at a girl's camp called Keystone Camp in Brevard, North Carolina.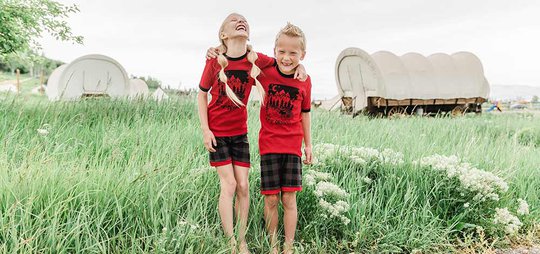 Keystone Camp is located in the Blue Ridge Mountains of Western North Carolina, roughly a mile from downtown Brevard with Pisgah National Forest, only 15 minutes away from the camp's front gate. The all girl's camp welcomes ages seven to fourteen, and once they are above 9th grade, they begin to enter the camp's leadership, aide, and counselor-in-training programs.
The pivotal moment that Christmas in July first began within the U.S. was thanks to Fannie Hold, one of the women that founded Keystone Camp in 1916. Miss Fannie, as she was also known, dreamed up the celebration for July 24th and 25th. Some of the theories of what inspired Miss Fannie's idea was to remedy how much camp friends often missed each other during the winter holidays.
The Washington Post covered this inaugural 1933 Christmas in July at Keystone, which made it the first official record of the event of its kind. The event featured caroling, gifts, decorations, and even a trimmed Christmas tree. Blanch Ulmer Pavlis, a camper at the time, described for Keystone records, "There were different colored lights, which made the tree quite bright and gay. Then who should arrive but Santa Claus himself to the tune of 'Jingle Bells.' After saying hello to everything, he began giving out presents. Then carolers began throwing cotton imitation snow. Those who never got the chance to see snow got quite the thrill."
National Attention
The idea of a middle of summer yuletide captured America's attention during 1940, thanks to the film titled Christmas in July. Just 4 years later, the U.S. Post Office promoted an early Christmas card mailing campaign for soldiers during World War II. By the 1950s, stores around the country were picking up Christmas in July as a theme for advertising summer sales, and even today, famous TV channels run schedules of entire weeks of Christmas movies in the middle of July.
Nowadays, Christmas in July is a beautiful occasion to shop early, taking advantage of sales to pre-order new decorations for the coming official holiday or early gift shopping, refresh holiday décor, or for those of us who adore Christmas—a chance to celebrate our most cherished holiday again. It's also an excellent way to have the holiday during a time when loved ones and family can be near, as not everyone can be for the official celebration itself.
Why and How to Celebrate Christmas In July
For some, they may only be interested in getting the jump-start for early gifts by taking advantage of the July sales. For others, Christmas in July becomes enticing—especially now—because it is a chance to get together with family members inside when the year is uncertain. A Christmas in July may touch something special to make a bright moment in the year. So if you want to gather your loved ones for July 24th and 25th, here's how to celebrate Christmas early:
Holiday comfort. You don't need to dig out the sweaters or long johns, but one of the perfect things to wear during the celebration is Christmas pajamas! Cozy, ultra-soft, yet available in all sorts of different materials that are breathable and cool no matter the weather, there's a lot of fun to be had in a wide variety of Christmas pajamas. If you're looking for something cute, funny, classic, or plaid, there's a set of pajamas out there you'll love wearing. Even better, many holiday pajamas can be available as a matching set for the whole family!
Decorate. You don't need to climb up into the attic or rummage through everything packed away in the garage. A few garlands of tinsel, your favorite Christmas lights hung with paint-friendly adhesives, perhaps a mini tree. Get creative and deck the halls with summery décor, too, maybe a tropical Christmas theme.
Simple Gifts. Much like decorating, no need to go all out. Simple gifts to your loved ones that are fun and inexpensive are a perfect choice. You could gift them items that will make their summer more fun, like swim gear, pool floaties, goggles, floating drink holders, beach towels, sunglasses, or small personal care items.
Bring the holiday treats. No need to wait until Christmas for the delicious treats. Easily create s'mores, make frozen hot chocolate, or whip up a batch of Christmas cookies to enjoy while watching a Christmas movie.
When it comes to Christmas in July fun and finding the most comfortable and cozy holiday pajamas and matching sets, we can help you find the perfect sets for creating a fantastic, joyous mid-summer celebration. Super soft fabrics and hilarious themes or traditional Christmas colors and patterns, our pajamas will bring the feeling of warmth and happiness to your Christmas in July celebration.