I had an insightful conversation with my sister-in-law just a few days ago. Since Christmas is right around the corner, we were determined to draw names, figure out who had whom for gifts, and plan a tentative schedule of activities. And although this year has flown by (wasn't it just barely Christmas?) it was quite startling to realize how very little we remembered about last year's gift giving:
"Did we have your names last year? I seriously don't remember."
"Um…. I'm not sure. Did you give us a crockpot? Or was that the year we gave you a griddle?"
"You know, I haven't the foggiest. Did we give you a crockpot? Wait—oh yeah, we did."
You get the idea. What we can conclude from this (rather lame) conversation is either: A) our memories have more holes than Swiss cheese and, therefore, we are to be greatly pitied or B) gift-giving and receiving, although super fun in the moment, is not the essence of Christmas. (Note: I really hope the answer is "B.")
Now, contrast this sad little conversation to the one we had just moments later:
"So, should we go sledding again the day after Christmas, like we usually do?"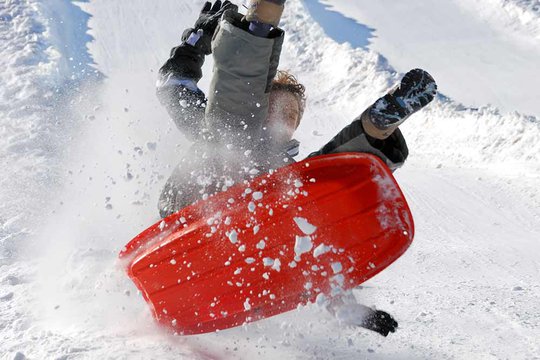 "Oh yeah! That's always so fun, every year. Remember when Tate made that jump and totally wiped out…"
(Laughter and memories then ensued because—wow—we actually remembered those events.)
My point? Gifts are nice and all, but family traditions actually matter. And because traditions matter to the Lazy One family, here are our Top 7 Christmas Traditions for you and yours to enjoy! Because at the end of the day, it's not about building your holiday stress levels, breaking your budget, and filling homes with more stuff—it's about building relationships and memories with those who mean the most.
1- Trimming the Tree
There's no better way to kick off the Christmas season than with a well-trimmed tree! And as the tree is the central gathering place for Christmas celebrations, make decorating the tree a family affair. There are many great traditions around trimming Christmas trees, from selecting the tree itself to the ornaments that are collected through the years to putting up those ornaments together while Bing sings in the background. And for an extra fun and memorable experience, why not string a popcorn garland? Here's how!
A- Pop a lot of popcorn!* (Snacking is greatly encouraged.)
B- Do NOT butter the popcorn. Keep it nice and plain. (No one likes a greasy tree!)
C- Thread a needle with a pretty, Christmas-colored thread.
D- Push the needle through the thickest part of the popcorn kernel so it won't easily break off.
E- For some extra pizazz, add some dried cranberries to your popcorn string. Your kids will love the patterns they can create! If cranberries are not available, red wooden beads will give a similar effect (if not a similar taste).
* Try popping ¼ cup of kernels in the microwave in a plain brown paper bag. When you don't hear popping for two full seconds, it's done!
2- "The Stockings Were Hung by the Chimney With Care…"
Most of us hang stockings by the fireplace because…well, because society tells us to and so far, it's paid off on Christmas morning! But do you know where this tradition came from? Telling the story of St. Nicolas to your family while hanging your stockings makes the experience meaningful—and even more memorable.
According to legend, St. Nicolas once travelled through a town where a poor man lived with his three daughters. When St. Nicolas overheard the plight of the poor girls, he wanted to help them. So that night, as the family slept, St. Nicolas quietly climbed down their chimney. Upon seeing the girls' newly washed socks drying on the mantle, he filled them with gold coins…then disappeared into the night. Since then, it's become a Christmas tradition to hang stockings for St. Nicolas on Christmas Eve!
Knowing and sharing this story with your children adds depth to a fun and classic holiday tradition—especially if sharing the story inspires your family to acts of generosity and kindness to others.
3- Matching Family Christmas Pajamas
It goes without saying that the Lazy One family loves pajamas. And chances are, your family does too; in fact, new pajamas for Christmas are a favorite tradition for many families. Nothing says "silly solidarity" like family Christmas pajamas—especially during the holidays! Some families get their pajamas early to enjoy all season long and even use them for Christmas card photos. At Lazy One, we have a large selection of Christmas PJs for everyone in your family—from Dad to the dog! When it comes to establishing fun Christmas traditions, matching family PJs are simply a must.
4- Caroling, Caroling, Here We Go!
Can you even imagine Christmas without carols? No? Well, neither can we. Music is the very heartbeat of Christmas, and caroling is a fun family tradition that spreads holiday cheer to friends, neighbors, and family—especially when delivered with a treat and a smile. Staying warm is crucial to caroling success, so be sure to wrap up! And remember, you don't have to have the world's best voice to be a good caroler. Just open up your mouth and let all of that Christmas joy spill right out! The following is a "Top Ten" countdown of some of Lazy One's favorite Christmas carols…just in case you need a little inspiration:
"Silent Night"
"Jingle Bells"
"Rudolph the Red-Nosed Reindeer"*
"Santa Claus in Coming to Town"
"We Wish you a Merry Christmas"
"Deck the Halls"
"Frosty the Snowman"
"It's Beginning to Look a lot like Christmas"
"Away in a Manger"
"12 Days of Christmas"
*Note: the author of this blog post says that the reindeer should have been nice to Rudolf in the first place. He shouldn't have had to guide the sleigh before others were kind to him. Reindeer games for all, whatever your nose's color! (Drop mic.)
But whatever your favorites are, from classic carols to the latest releases, make sure that Christmas music is a big part of your celebration this year! 'Cause you know what they say: "The family that sings together…. um…has a great time singing together." (Or something like that.) At any rate, uplifting music sets the tone for a happy home, all season long!
5- The Rotating Christmas Quilt
Cozy blankets are the very embodiment of home, warmth, love, safety, comfort...nothing beats your favorite blankie. And during the Christmas season, it's extra fun to use a special rotating Christmas quilt! Here's how it works:
Designate a special quilt or blanket as your "Christmas Quilt." (You don't need a homemade quilt to start this tradition, thankfully, since the author of this post can't quilt to save her life!) The one here is a sherpa fleece throw blanket that works beautifully—and the red plaid pattern is extra festive.
During the day, place the "Christmas Quilt" onto a family member's bed, rotating the quilt to a different bed every day. When bedtime rolls around, the family gathers together for a bedtime story in that room. Allow the lucky person with THE quilt to choose a Christmas book to read and enjoy that cozy time together as a family. (There are so many great books to choose from! You might even try No Peeking, available through Lazy One.) One of the great benefits of this quilt-and-story tradition is that a good bedtime routine is established, encouraging the kiddos to settle in at the designated hour. And snuggling with your kids? It doesn't get much better than that.
6- Giving Back and Helping Others
There are many opportunities to serve those around us during the Christmas season (and throughout the entire year, actually). Some of our most powerful memories are not about what we get, it's about what we give. Here are some ideas to get you started:
Blessing Bags- Make little gift bags that can be given to the homeless. These bags can include things like snacks, gift cards to restaurants, gloves, hygiene items, and more.
Sponsor a Child or Family: There are many organizations, like Sub For Santa, that need help in making Christmases better for children and families. Take your kids shopping for items another child needs. (This often helps children appreciate what they have.)
Cocoa Stand- One of my family's traditions is to have a "Cup-For-a-Can Cocoa Stand" every year. It's like a traditional lemonade stand, but with cocoa instead. (We run this out of our garage, with a space heater, because regrettably, we do not live in Hawaii.) Each cup of cocoa costs one can of food, which we donate to our local food bank. Our kids—and neighbors—anticipate this tradition every year and feel like they're part of something meaningful.
Volunteer- Serving at a local shelter or soup kitchen as a family is a life-changing experience—in the very best of ways. There are many ways to volunteer in your community! You could help a refugee. Or visit someone lonely in a rest home…the list goes on and on.
There are literally countless ways to help someone else during the holidays. And serving others—together—positively impacts our families as nothing else can. And again, why stop at the holidays? Making a difference in your community will enrich yours and others' lives all year 'round.
7- Twelve Days of Christmas
My family does a secret "Twelve Days of Christmas" for a different neighbor every year, and it is so much fun. The choosing of the family…the readying of the gifts…the careful scheming…the timing…the dark clothes…the stealth…the doorbell ditch…the getaway car…the giggles…the hiding in the bushes…the running-away-and-almost-getting-caught moments…
Seriously, folks, if you haven't done this with your family you are missing out. Time to get started!
First, choose a family who might need a little extra cheer this year. Then decide on what gifts you'd like to secretly give every night. (My family gives pieces of a nativity every night, but you can give whatever you want—have fun with it!) When my husband was a child, his family was on the receiving end of the 12 Days of Christmas, and every night they received a gift that went along with the famous carol. (For example, seven toy swans swimming in a pan of blue Jell-O for "seven swans a-swimming.") Your gift can be highly creative like this, or can be very simple—maybe just an inexpensive treat or small trinket every night. Your chosen family will appreciate that someone is thinking of them, whatever the gift.
Wrap your gifts (maybe with a note attached as to what you're doing) and, starting on December 12th and leading to Christmas Eve, secretly deliver your gift by putting it on the doorstep, ringing the bell, and then quickly getting the heck out of there! Sounds easy, right? It could be very easy, or…
You may find that as your chosen family starts anticipating your deliveries each night and they (depending on the personalities of the family) may or may not try to catch you in the act. This is going to up the ante on your sneakiness, but honestly, it makes it more fun. (One year, we had our kids dress all in black and wear superhero masks on the backs of their heads so if the family saw anyone running away they only saw the superhero face. That was epic.) So have fun! Test your Ninja skills! Borrow other cars so your delivery vehicle changes every night! Sprinting down dark streets, giggling all the way, is the very best of family bonding.
Merry Memories!
There's no place like home for the holidays—and we hope that some of these traditions will find their way into your home this Christmas season. May your days be merry, bright, and filled with fun memories in the making!