There is no denying that times have changed. With COVID-19 changing the way we live our lives, social distancing has become the new normal. Grandparents have particular challenges during this time. Since the elderly are at an increased risk for contracting the virus and developing severe complications, self-isolating is really important. Here at LazyOne, we are seeing a few interesting ways grandparents are staying in touch with their grandkids. Let's take a look at what we've noticed.
Grandparents are using ecommerce at higher rates than ever before!
While shopping for pajamas for the little ones used to take place at brick and mortar retailers, now that many of them have closed, grandparents are turning online to get gifts for their loved ones.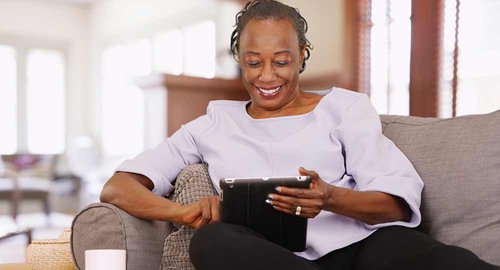 Shoppers who are between 55 and 65 have doubled on LazyOne.com. Grandparents who are over 65 have tripled! That is an amazing increase. Because they can buy the cozy and comfy pajamas and have them shipped directly to their grandkids, the gifts can be given while maintaining social distancing.
Grandparents are using online retailers to connect during special events.
Whether it is for a missed birthday the grandparents are unable to attend or a graduation, we are seeing lots of orders for kids being placed by grandparents who are social distancing from family during the COVID-19 era. This is such an easy way for grandparents to show they care even in this distant time.
Grandparents are sending meaningful gifts with important messages.
LazyOne takes pride in our funny sayings, and loveable characters. With such a wide range of messages, we were pleasantly surprised to see a large increase in the sale of pajamas with messages like our alligator kid pj shorts set that says "Roll With It".
Other sets that saw a well deserved increase are ones like Bear Hug kid pajamas, and Chase your Dreams.
It seems pretty clear that grandparents are wanting to send encouraging messages to their little grandkids, and we truly love that!
Grandparents are sending other gifts besides pajamas.
Many of the additional gift items are for second and third events during the year. Pajamas might have been the thoughtful birthday present, but what happens when the little one graduates from their grade school class? Whether it is a cozy hooded blanket to let them pretend to be a dinosaur or a unicorn to a mermaid tail blanket, blankies are on the rise for gifts from the grandparents during times of social distancing.
Aside from blankets, a furry stuffed critter is always a thoughtful gift for the littles. And what better way to unlock a kids imagination when they cant play with friends than with our animal paw slippers and paw mitts! They'll be able to go on adventures as adventurous wild things in the backyard, or the bedroom.
From slippers and socks to blankets and stuffed animals, we are seeing grandparents step up with the these gifts.
Regardless of the reason, grandparents are such an important part of our families. We love that we can help them stay connected, and show their precious grandkids that they are thinking of them!